Crowdfunding Crash Course: Tamar Swartz - Journey to Surrender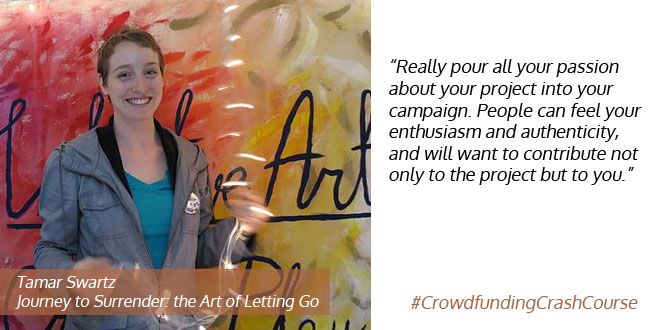 Tamar Swartz is a Canadian mixed media visual artist following her creative intuition in painting, drawing and collage. She used Indiegogo to fund her art project Journey to Surrender: The Art of Letting Go.
Can you briefly describe Journey to Surrender: The Art of Letting Go?
Journey to Surrender: The Art of Letting Go is a creative project currently being developed during a 6 month artist residency in Budapest, Hungary. It's about following your own creative intuition and allowing a piece of art to emerge and breathe, like any living organism would. It's about trusting yourself and embracing the creative process while releasing conceptual and intellectual approaches to art making.


Journey to Surrender is a three-part project. Part one is my own mixed media visual art practice and walking the pathways of Creative Surrender. Part two is collaborating with other artists to find Creative Surrender together. Part three is facilitating workshops for local participants to experience this form of expressive visual art making.


Once the project is complete, my experience will be integrated into the Intuitive Art workshops that I facilitate. You can read more here.


Why did you feel that the crowdfunding model was the best way to promote the project?


A large part of the project is to have other people involved and engaging with expressive mixed media visual art and Creative Surrender. Crowdfunding seemed like an obvious choice to spread the word and build momentum about realizing Journey to Surrender. Additionally, once the artist residency is completed, I will be integrating what I have learned into my Intuitive Art workshop facilitation.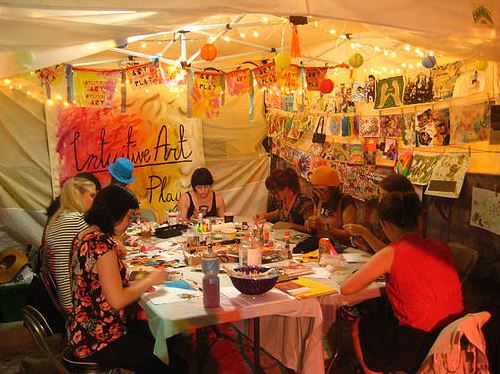 Why and how did you choose Indiegogo over other crowdfunding options available?


I looked at Kickstarter as an option, but wasn't completely sure about the all/nothing model for Journey to Surrender: It seemed like a big leap of faith.


I was also under the impression that my project would have to first be approved by Kickstarter before the campaign launches, a process that takes time. I was on a short timeline and ready to start the campaign. Indiegogo has a really easy to navigate platform and their customer service is very helpful.


How big was your budget before you launched your crowdfunding campaign?


I'm not 100% sure how to answer this question…are you asking about the financial resources that were needed to make Journey to Surrender happen, that I had before starting my campaign? If so, $0. Or, are you asking about how much money I spent building/marketing my campaign? $0 but a lot of time, energy and creativity.


How far along was your project before you felt ready to launch a crowdfunding campaign? In hindsight, would you have preferred to be farther along, or to have crowdfunded earlier?


Journey to Surrender did not officially start until I landed in Budapest, so my Indiegogo campaign was a "pre-project" campaign. Within the week that I received confirmation that my residency application was accepted, I started building my campaign. I drew on my Intuitive Art facilitating experience (2 years) and all my art from my own creative practice. It was now-or-never for me.
Can you explain how you prepared for and managed your campaign?


It took about 2 weeks building my campaign. I spent a lot of time making sure it clearly said what I wanted, adding photos that represented Intuitive Art, and designing perks at different price levels. I asked a few close friends to check it before I launched and got some valuable feedback. Also, these friends were "cheerleaders" throughout the campaign and helped me spread the word about Journey to Surrender.
I also made a timeline of my campaign and set up a schedule of when to send out invites and reminders to participate in the campaign. I was successful in not spamming people. I also made funding goal targets, which turned out to be flexible.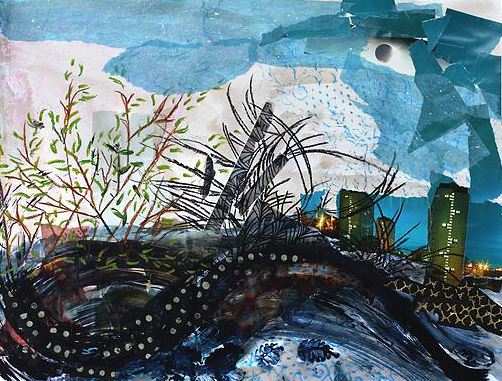 What tools did you use to market your campaign? Do you feel like you did so successfully, and if not, what could you have done differently?

I mostly used social media and personal social networks to market my campaign. I posted on my Facebook, Twitter and Instagram accounts. Hashtag everything!
I also sent a lot of personal emails and Facebook messages to friends, family and acquaintances who I thought would be interested in knowing about my project. I received a lot of positive feedback.

Out of all the generous contributions, only 2 were received from complete strangers. Next time I would like to know how to crack that line between friends/family/acquaintances and complete strangers.

In retrospect what were your best assets for running this successful campaign? On the other hand, what would you do differently?


My best asset for this campaign was my enthusiasm and a really compelling combination of a written pitch, images of my art and perks that were appealing. I received a lot of positive support from friends and family!

I think that having a campaign video could be fun for next time. But, I realized that for Journey to Surrender it wasn't completely necessary.


What was your biggest challenge during your campaign?


Holding faith that it would be successful. There are days where no one contributes or seems to be talking about it, which is feels like nothing is happening. But, even on those days I had to remind myself that contributions come in waves. It was really incredible how in the last 42 hours people really rallied and funds were literally flowing in. Journey to Surrender ended up being 135% funded! There's something about the pressure of the campaign ending that motivates people to contribute.


What's the most valuable advice you could share with aspiring crowdfunders?


Really pour all your passion about your project into your campaign. People can feel your enthusiasm and authenticity, and will want to contribute not only to the project but to you. Be open to surprises! Sometimes the people who you expect to contribute don't, and the people who weren't even on your radar do. Don't take anything personally and always always ALWAYS practice gratitude. Even the smallest contribution is important. Also, be mindful that sometimes contributions are not monetary.
This post is part of the #CrowdfundingCrashCourse series. You can find the entire series of interviews and summary posts here.

---