Twitter for Beginners (Extra Credit): Delving deeper into Twitter Analytics
Since I wrapped up my Twitter for Beginners series I've had a handful of people email or or @mention me asking questions about Twitter Analytics.
We discussed the importance of analytics a bit in Part 3, but I thought that since it's come up a few times since, we could do a little 'extra credit' session and share a little more in-depth insight into how to read your analytics and make the most of the data!
What you're looking at
Before we delve too much into this post, let's take a second to go over some of the phrases we'll be discussing, and what they actually mean.
Engagement: The total number of times someone interacted with your tweet (more on this in a few moments)
Engagement rate: Number of engagements divided by impressions
Impressions: Times someone saw your tweet in their timeline or search results
Link clicks: Clicks on a URL or Card in the tweet
Permalink clicks: Clicks on the tweet permalink
User profile clicks: Clicks on your name, @handle, or profile photo
Detail expands: Clicks on the tweet to view more details
Embedded media clicks: Clicks to view a photo or video in the tweet
Follows: Whenever you gained a new follower as the result of a tweet
Got it? Good. Let's go!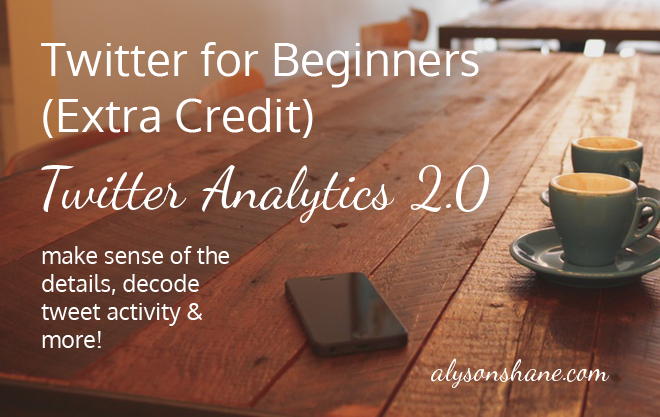 Get monthly reports
If you check out your account home you can see a quick overview of your Twitter stats. This page shows stuff like monthly average engagement rates, replies, profile visits, etc.
This is pretty standard stuff, but can be really helpful at-a-glance and is great when you need to reference something in a meeting (I do this with my clients often.) It's especially helpful because Twitter will calculate the percentage of increased or decreased engagement, so you can start to dig into why a particular set of tweets earned more impressions, or not.
If you want a more detailed explanation you can check out the Tweets page which shows you much more in-depth metrics. Clicking on a tweet will show you engagement broken down further into ReTweets, Favourites, Clicks on Media, Link Clicks and more.
Measure engagement
One of my favourite features on the home page is the 'Engagements' section on the right-hand side, which breaks down your engagement rate into easy-to-read graphs, percentage points, and an 'on average' recap which gives you a basic idea of how your tweets are performing each day on average.
What does engagement measure? Tons of stuff! Such as:
ReTweets
Replies
Follows
Favorites
Links
Cards
Hashtags
Embedded media clicks
Username clicks
Profile photo clicks
Tweet expansions
This is, in my experience, the easiest way to pull pertinent information from Twitter. I use it whenever I'm putting together a report for a client, or when I want to see how I'm doing - once you're used to looking at it I'm sure you'll be just as obsessed with it as I am!
Find out who your influencers are
When you're on the Home page you can get insight into who your top followers are every month in terms of reach, as well as whose @mention to you created the most engagement. You can also look at the Followers page for your Top Follower, which gives you insight into the kinds of people who are following your biggest influencer.
For example, my highest mention this week was from my hilarious pal Kieran, who tweeted this during the recent Canadian Federal Leader's Debate: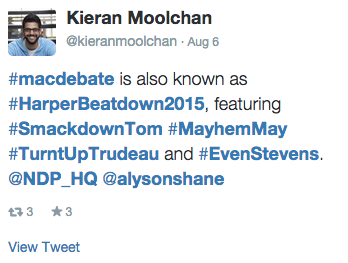 Who should you care? Understanding your top influencers helps you figure out the kinds of people who are active online (and who have active followers, themselves) and the types of people who are most actively engaging with and sharing your content. This type of information can also be helpful when trying to figure out someone to reach out to help you promote an project or collaborate together on an idea.
Get to know your community
If you're trying to grow your community in a specific direction the followers page is your new best friend! it's full of insight into people's top interests, their demographics, and how your followers have grown over time. This last bit of information is especially important if you publish original content regularly or participate in Twitter chats, because you can track what sorts of actions are the most effective at growing your community.
Here are a few key things to look for:
Which topics your audience are most interested in
Followers by region (ever have tweets that explode in popularity while you're asleep? This might be why)
Which language they speak (mine's overwhelmingly English, which makes things easy)
Who your followers follow (some competitive research never hurts)
See if your posts being re-shared or favourited
Whether or not a post gets Quoted or ReTweeted or Favourited tells a different kind of story about the tweet. Quoting and ReTweeting is generally a sign of value - someone felt that your content was valuable enough to share it with their audience, as well.
Favourites are like virtual fist-bumps: someone liked what you had to say and is giving you props by Favouriting your tweet.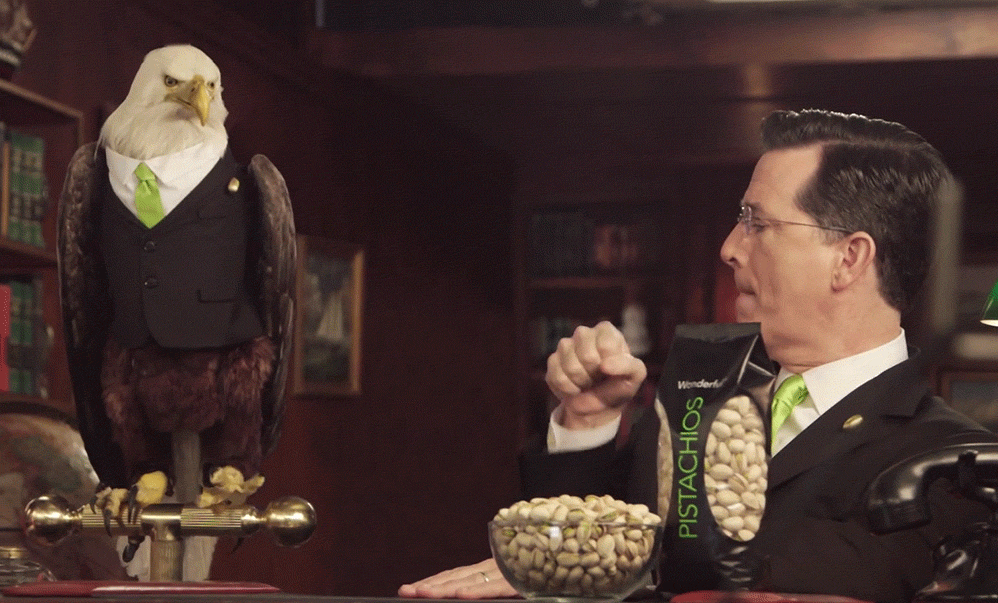 Figure out your "Favourited Rate"
I first read about the "Favourited" Rate theory over on Dave Shure of Evolving SEO's blog, and it totally changed the way that I thought about Favourites. I frequently hear people bemoan the fact that people "just favourite" a post instead of Quoting or ReTweeting it, but favourites can be just as insightful if you approach them this way:
Your followers are going to click 'favourite' for a bunch of reasons, but most likely they're expressing agreement with whatever you said in your tweet. If you track the types of posts that get the most Favourites, you can often find trends emerging which can help guide your decisions when trying to figure out the kind of content to share. This is a huge boon because your audience is directly (if not unintentionally) showing you the kind of content that they like best.
Your turn!
These are just a few of the way that Twitter Analytics can help you figure out how to make the most of your tweets and grow your audience. Go, check out what we've covered here today, and and if you'd like me to cover it drop me a line and I'll get cracking on the next Extra Credit instalment!
PS if we're not already pals on Twitter, make sure to follow me and connect with me there. I love chatting with my readers!

This post is part of the three part series on Twitter for Beginners. Make sure to read part one, part two, and part three as well! The entire series can be found here.

---