How to Build a Killer Digital Marketing Strategy
We live in tumultuous digital times, my friends. New social networks seem to be appearing every day, and if you're trying to promote your business online, it's easy to feel like there are too many options to choose from.
Most clients I talk to when we first meet have an ad-hoc strategy when it comes to promoting themselves online; they know of a few social networks and have accounts set up, but in many cases their messaging is muddled, unclear, and in many instances they are trying to reach an audience who simply aren't there.
That's why developing a digital marketing strategy is so important. Having a strategy which has taken into consideration both your brand's needs and those of your audience and customers can make or break your marketing efforts, so today let's go over some steps to build a badass digital marketing strategy to help you stand out online: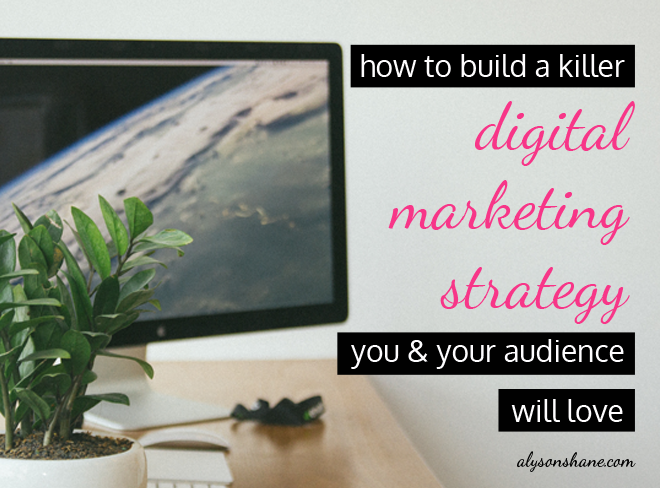 Determine your goals
The first thing I ask a prospective client is: what do you want your digital marketing strategy to accomplish? Many people have never thought about this before, and if you haven't until just now, that's okay! But now is the time to start thinking about what all the time and effort is going to do for you.
When I was in university, I took a few business courses where I learned about two crucial acronyms for planning that I still use every day: SWOT and SMART.
SWOT stands for Strengths, Weaknesses, Opportunities, and Threats, and is helpful when planning a project or new business venture so you can assess (you guessed it) your strengths and shortcomings before moving forward.
SMART stands for Specific, Measurable, Attainable, Realistic, and Timely. When planning out your goals for your digital marketing strategy, make sure that they all meet this set of criteria. What do you want to accomplish and how will you measure it? What are realistic and attainable goals to aim for?
Understanding your SWOT and SMART goals will help direct your time and energy, so you don't waste time floundering around, trying this or that, instead of having a focused and easy-to-understand set of goals.
Ask "Why me?"
What I mean by this is: ask yourself why your business exists.
What does your organization (or your small business) do that makes you worth working with? Are you a Twitter whiz? Do you write fantastic, eye-catching copy? Are your presentation and PowerPoint (or Keynote) skills second-to-none? How do your skills and your personality set your business apart from your competition?
This may take some digging and soul-searching, and that's okay! Many of us (myself included) have had to take a hard, critical look at our business and suss out what makes us unique, and how we can convey that to our audience and potential customers.
Tell your story
Crafting a narrative about your brand is one of the most important things you can do online. Your story -what makes you unique, different, and perfectly posed to solve your customer's problems - is what sets you apart from your competition.
Humans are natural storytellers, and people will be attracted to and remember a brand whose story made them feel something. Positive feelings also lead to feelings of trust, comfort, and help shape your brand's identity not just as a company, but as somewhere where real, dedicated people work and put their energy into.
(Want more info on brand storytelling? Check out my post Marketing Your Brand Through Storytelling)
Build your buyer personas
A buyer persona is exactly what it sounds like: a fake profile of the kinds of people you want to attract and engage with online.
A complete persona should have details about the person's background (I like to name my buyers, too), what they do for a living, what their values and beliefs are, what they like and don't like, and what motivates their decision-making process.
Developing buyer personas is one of the most important steps you can take as part of your digital marketing strategy because it gives you a deeper insight into what your ideal customers are looking for online. This information will inform the kind of things you say, what you share, and the people you connect with online.
Identify where your audience will be
This is critical to implementing a successful digital strategy because if you don't take the time to figure out where your target audience is hanging out online, then you'll never be able to reach them and show them how awesome you are.
That's why doing a buyer persona is so important: it doesn't just inform what to say and how to say it, but also where you should be saying it for maximum impact. For example, if your target audience are Etsy obsessed DIYers who love Pinterest, spending all your time marketing on LinkedIn, which is a business networking site, isn't going to help you find your audience anytime soon.
Take time to think about where your ideal customers will be spending their time thinking about the things that interest them online, and how you can make yourself stand out so they notice you.
Track your success & pivot when necessary
Social networks change over time, so it's important to keep an eye on how successful your digital strategy is, and to fine-tune as you go along. Paying attention to the statistics of each social media account (and your website, if you're blogging, too) can go a long way towards informing what kind of content is resonating your audience, and which turned out to be rather lackluster.
What's wonderful about digital marketing is that unless you really screw up, your audience will usually forgive and forget about a post that didn't catch their eye, or a tweet that didn't go as viral as you hoped. This means you can experiment with different kinds of images, polls, contests, and more! Just track how successful each one was and try to duplicate the ones that did well.
Ask for help (if you need it)
Developing a robust digital strategy can be challenging and time-consuming, and even when brands and businesses have buyer personas they often can't (or don't want to) spend the time reaching out to them and connecting.
That's totally okay! You are not a machine designed for selling and promoting, and if you feel overwhelmed at the thought of having to run your business and develop and implement a digital marketing strategy, that's normal.
Many people choose to work with business consultants, who can help you determine the right direction for your company and develop a killer digital strategy to go along with it (I recommend Kyla Roma if you're in the market for someone; she's fabulous). There are also people like me who offer content management services to help keep you on track (shameless plug, haha).
There's no shame in asking for help, so if you're feeling baffled or overwhelmed make a point to reach out to someone and get the ball rolling on developing and implementing your shiny, new digital marketing strategy!
Do you have any questions about digital marketing? Do you want to know more about how to implement a killer online strategy? I'd love to know!
---