I want to be a cat in my next life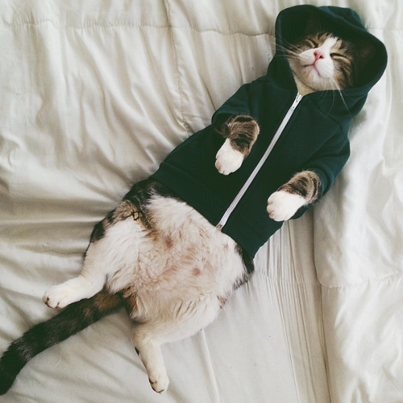 If there's anything better in this world than being a well-loved house pet, I don't know what that is.
Yes as a human of course you get to eat amazing things. Mussels and oysters and lobster and sushi. Garlic toast and fresh sourdough and croissants. Spaghetti and meat balls. Fresh doughnuts.
And you get to drink coffee and beer and rum out of a coconut. You can make iced tea on a hot day or have a cup of Chai on a cold day. You can make hot toddies when you get sick.
As a human you get to ride your bike and marvel at the big trees in your neighbourhood. Or go fro a car ride and listen to Leonard Cohen on the radio. Or sit next to a big dam and watch the sun set and listen to the water roaring by.
You also get to read books and blogs and literature and if you're lucky you have a wifi connection thanks to the computer in your pocket that lets you look up any dang thing you want.
We have Wikipedia, for chrissakes!
But if I believed in reincarnation
(which I don't, but y'know)
I'd try to come back as a well-loved house pet.
Because food and alcohol and literature and adventure are great and all.
But on-demand belly rubs just can't be beat.
---