Tagged: feminism
- by Alyson Shane
Before I go further, I want to acknowledge that the march I'm discussing was held on Treaty 1 territory.

I mention it because it's important for me to acknowledge that I marched for treatment, rights, and freedoms that many Indigenous people, particularly Indigenous women and girls, still do not receive despite the fact that we marched on their traditional lands.
I also want to preface my post by saying that as a white cisgender female, born in Canada to a middle-class household, with a post-secondary education, I understand and accept my privilege. I do my best to be aware of that privilege and to be respectful and accepting that there are gaps in my perspective, knowledge, and understanding. I want to be clear that my perspective can't (and shouldn't) be representative of, or exclusionary to, others. I also apologize in advance if I unintentionally exclude a specific group from this post - it's not my intention to do so, I am just going to write what I can from the heart in the best and clearest way that I know how.
Without further ado.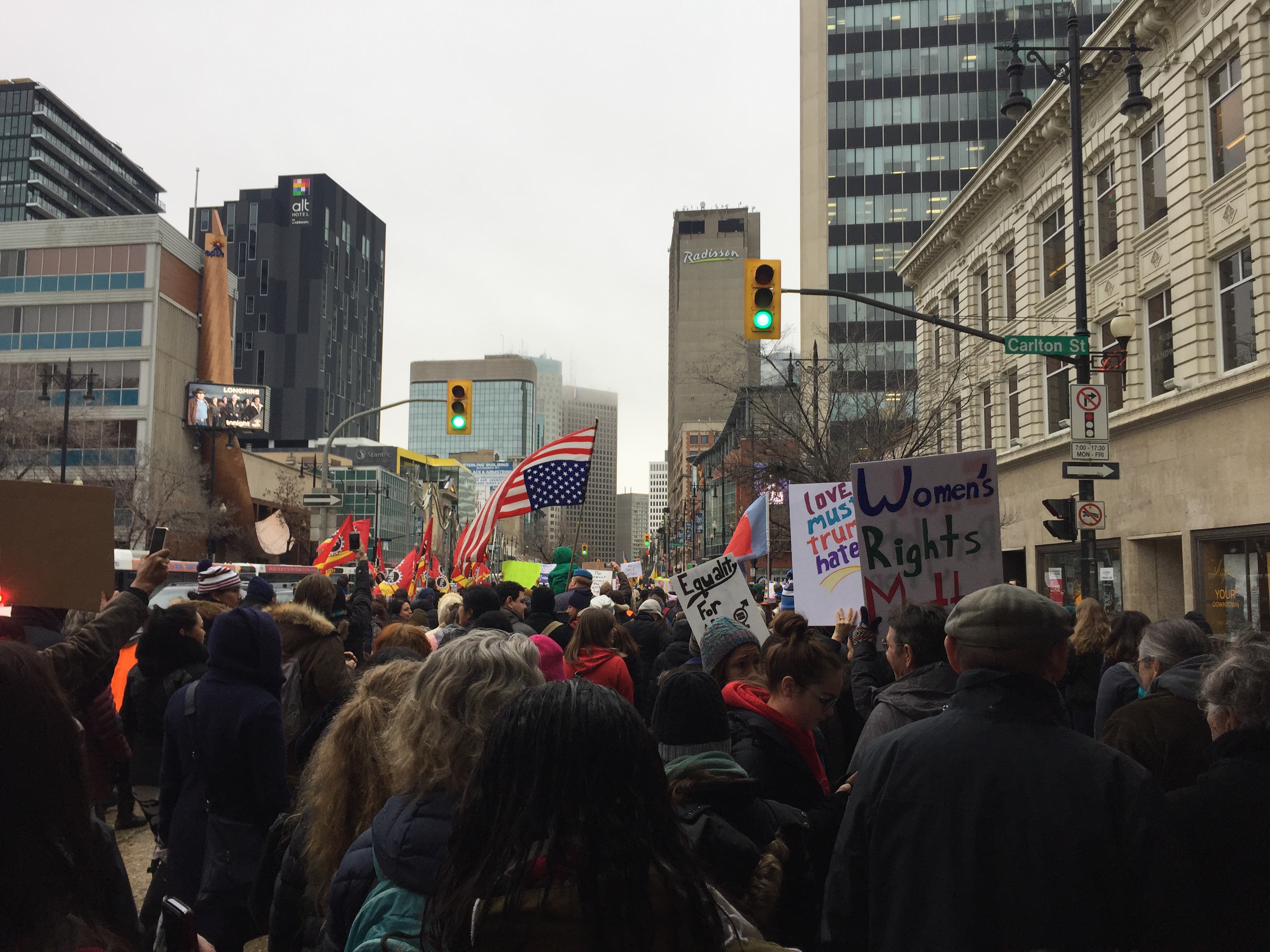 Why I marched
I marched because I believe in equal rights. I believe that everyone, regardless of their sexual orientation, gender identity, place of birth, skin colour, mental or physical ability, and religious beliefs should have a place within our society. Everyone has the right to feel safe and respected, and I support a movement which makes equality one of its core principles.
I marched because I stand as an ally behind the LGBTQIA community. I recognize that there are struggles and issues that I can't possibly start to understand due to my privilege as a white cisgender woman, but I stand behind these groups as an ally because I believe that we should be able to love whomever we want, and to have our sexual and gender identities respected and supported by our families, communities, and governments.
I marched because I value our sexual and reproductive rights. I believe that everyone deserves to have access to medically sound, high-quality sexual information and counselling, reproductive care including birth control, and access to safe, legal abortions regardless of their income, sexual and gender identity, race or religious belief. I support helping individuals make well-informed and medically sound decisions about their bodies and sexual and reproductive health.
I marched because I stand as an ally behind minorities and POC. As a white woman I accept that there are struggles that I will simply never face due to my skin colour. With that in mind, I do my best to be an ally to movements like Idle No More and Black Lives Matter. I acknowledge that it is not my place to fight on behalf these groups, but to express my support in the ways which are appropriate.
I marched for our planet. I believe that we have a responsibility to take care of our planet, and to stop putting our convenience and comfort before tackling issues like climate change. We need to end our dependency on fossil fuels and transition to green, renewable energy sources which won't cause further damage the planet and put the future of our species and the rest of the life on this planet at risk.

I marched because I have made mistakes. Opinions grow and change over time, and I know that in the past I have made thoughtless and hurtful comments, and have acted in ways which could have been more kind and well-informed. I am continually doing my best to learn to be an ally, and to learn from my past missteps and do better moving forward.

I marched for my future children. I want to bring children into a world where they don't have to feel ashamed of who they are, what they look like, what their mental or physical capabilities may be, and who they love. I want to be a part of a movement which encourages the best in our society, and which is pushing for a future that I can be proud of.
What can we do now?
Naysayers on the internet and elsewhere have tried to downplay the importance of this movement, saying that it will "die out", "go nowhere" after the initial march has ended, but don't believe them. The cause will only die out if we stop caring about each other and putting in the time and effort to make our voices heard, and that won't happen.
Here are some ways that we can do our part to keep this movement alive:
Acknowledge our privilege
It took me a lot longer than I care to admit to come to terms with my privilege. It's hard and uncomfortable to look critically at yourself and realize the ways in which society treats you differently than other people, but being able to is essential to being an empathetic ally to other groups.
If you aren't sure what any of this means, BuzzFeed has a handy and easy to understand quiz which breaks down some ways in which you may be more privileged than others.
Speak out + listen back
Talk to the people around you about politics and issues that you care about. If you don't feel like you care about any issues, read a few news articles and make a list of the things that you agree and disagree with. Now, google those points and learn as much about them as you can.
Next, ask the people around you what their thoughts are on those topics. Don't be afraid if they're different that yours: instead, look at it as a chance to learn about a different perspective than your own. Ask questions and be curious and respectful, even if you disagree.
Don't be afraid to be wrong, or to admit that you don't know something. Everyone is learning all the time, you and me included.
Get out there
It's easy to be an armchair activist, but until we start getting out from behind our computer screens and showing up to events in our community we can't really begin to understand what other people are thinking and feeling.
Show up to town hall meetings, political debates, free lectures and rallies when you can. It's okay if you don't feel comfortable, and don't know what to say or do. Just showing up and listening is more than a lot of people are willing to do.
If you live in Winnipeg and want a friend to come with you, let me know and I'd be happy to join you.
Did you attend any the Women's March rallies? What were your experiences like? Tweet at me or tell me in the comments, because I'd love to hear from you!
---