10 Steps to a Better Email Newsletter
I love using email newsletters. They're one of the easiest ways to keep in touch with your current audience or customer base is through email newsletters. They're low maintenance, cost-effective, easily measurable, and can be extremely beneficial when written, designed and delivered correctly.

I've used MailChimp for clients for a while and recently started sending out my own newsletter (shameless plug, sign up here!) so I figured that it might be helpful to share some tips that I've learned about how to write and design a newsletter effectively.
Why have a newsletter at all?
A newsletter is actually one of your most valuable tools because it allows you to communicate all kinds of messages, and a well-planned newsletter will allow you to:
Remind your audience and customers that you exist
Build your brand
Increase customer loyalty
Boost sales
Raise awareness of what you offer
Direct traffic to your website
The trick to an effective newsletter is to keep up with it. It's a long-term investment - you can't stop and start again. Newsletters are only effective when you produce and distribute them on a regular basis.
But if you've never put a newsletter together before it can seem kind of daunting, so below I've outlined 10 steps that I've identified, which make the process a lot easier: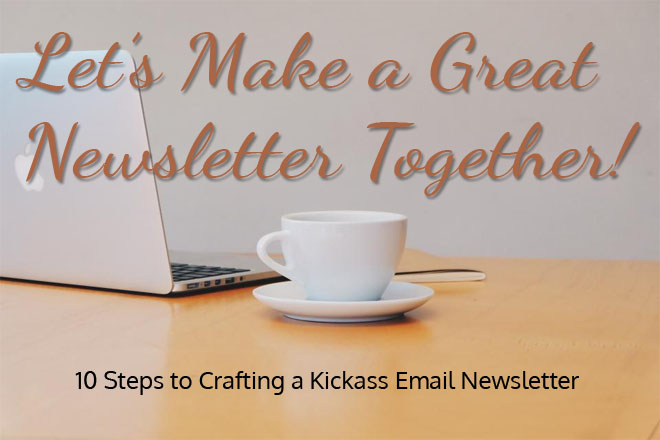 1. Figure out who you want to send it to
In order to start sending out a newsletter, you need to figure out who your intended audience will be. Are they customers, staff, contacts, bloggers - or a mix of all of them?
Figuring this out will help you determine the kind of content that you want to include in your newsletter so that it will be appealing for them to open and actually read. This might even require sending our multiple newsletters, depending on your intended audience. For example, you might not want a client seeing confidential business information that you want to distribute to your employees.
2. Pick a format and stick with it
Before you send out your first newsletter, spend some time playing around with different layouts and formats. Once you've found one that you like, stick with it. Frequency in newsletters is key, but so is consistency - people will expect to see the same pieces of information in the same place each time the open it.
Consistency is important because not only does it help the reader recognize that it's your content, but it will help them navigate it effectively to find the content that they want to read.
3. Establish a style
The style of your newsletter plays a big part in establishing the kind of perception that you want to create with your readers. Some questions to ask which will help you determine this are:

Who are your audience and what do they like?
What is your brand personality?
What niche or industry is your business in?
Do you want your newsletter to be informal or serious?
Do like it to be focused on sales or more educational?
4. Keep it short & sweet
The average person will only spend 20 seconds reading your newsletter, so trying to cram a ton of information into that span of time will get overwhelming and they'll either totally miss your message, or (worse) will stop reading altogether.
Ideally you want to feature one to three key things and have a list of other relevant links somewhere else in the body of the newsletter.
5. Sort out your content
This can vary widely depending on the business that you're in, but these tips below should help you clarify what should actually go in your newsletter:
Special announcements
News or blog posts
Highlighting key products
Testimonials
New products or special services
6. Keep people interested
Even though you have a beautiful newsletter doesn't mean that people will continue to open it and remain interested long-term; you need to continue to generate content that people want to read. Here are a few ways to make sure you stay on track and provide useful, interesting information
Answer questions. What do people ask you about your work, your services or your business? Focus on these issues.
Keep your objectives in mind. What are your business goals? How can your content help you achieve them?
Ask around. Ask your customers and clients what they want to see, and ask for ongoing feedback so you can keep refining your content.
Sign up for newsletters that cover similar topics and see what others are doing effectively.
Include information relevant to the industry that you're in. This could be a recent relevant news item or statistic, or even something as simple as a quote.
Create regular topics. Ensure that your template has sections which cover the same areas each time.
7. Write an attention-grabbing headline
The subject of your email newsletter is just as important (maybe more so) than your content, because it's what grabs people's attention and encourages them to open the newsletter. With this in mind, a headline should include one (or more!) of the following criteria:
Include benefits. The hook should answer a question or appeal to an emotion.
Get personal. A more personalized subject line or headline increases the likelihood that your recipients will open the email.
8. Avoid the 'spam' folder
After you've gone through all this effort, you want to make sure that your newsletter doesn't go straight into someone's trash or spam folder. Here are a few ways you can avoid getting junked:
Include a clear and specific subject line
Don't be offensive or unethical in your content
DON'T USE ALL CAPS (ever!)
Don't include private or sensitive content
9. Spell Check
By now you should have a pretty good idea of how you want your email newsletter to look and feel, and maybe you've even written out your content and selected a few pictures. But before you click 'send' on the campaign button, go over everything again. If you can get someone else to look it over, even better, as a typo of misplaced image can totally throw off your message.
10. Test it out
Most newsletter services will give you the option to send out a test email before you send it out to your full recipient list. Always, always send out a test email! This gives you one last opportunity to go over and identify any spelling issues, weird image sizes, broken links, and content placement that you might have missed previously. For reference, for each newsletter campaign I send out I generally send myself at least two text emails, just to be 100% certain that everything is in working order.
That's it! You're done!
You now have a great, attention-grabbing newsletter that will help you keep in touch with clients and your audience! Still confused? That's okay! Shoot me a message and let's chat!

Do you have any advice, tips or tricks that you employ to make your newsletters stand out? I'd love to hear your thoughts!

---