Crowdfunding Crash Course: Mike Raven - The Travelling Book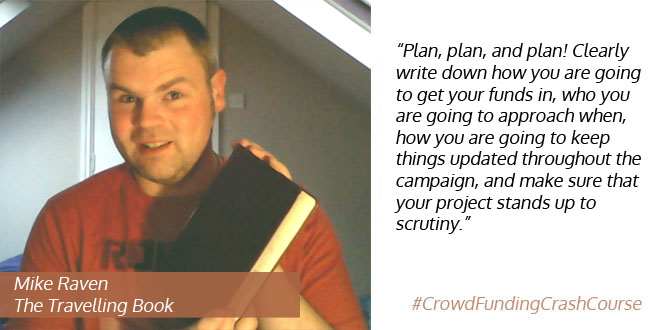 Mike Raven is a blogger and video maker from Hull, UK. He used Indiegogo to generate interest and fund his project The Travelling Book.

Can you briefly describe the Travelling Book Project?
The Travelling Book project is a project to help the world connect.

Essentially, the project was to send out a number of "travelling books" (blank journals) that would travel the world from person to person, with each person writing in the journals information about themselves and their lives. When each journal is full it's supposed to come back to me for me to scan and put on the Internet, so anyone can see where the journal traveled and who it met. This way you could discover what different parts of the world was like actually from the people living there.

I'm still waiting for one of them to make it home!

Why did you feel that the crowdfunding model was the best way to promote the product

When I first had the idea, I decided that I would send five books out. However, when I asked friends and family if they wanted to get involved, straightaway I discovered that there was more demand than there was books available. And I thought to myself that if they wanted to take part, they might be willing to pay.

The great thing about crowdfunding in this case was that the project could scale e.g. people would pay for as many books as they want, and I could put the extra money generated towards a project website which I wouldn't have been able to create otherwise.

Why and how did you choose Indiegogo over other crowdfunding options available?

To be quite honest, I tried Kickstarter first, and I couldn't work out how to set it up to work in my country (the UK)! Also, Geek & Sundry had at the time just used Indiegogo to fund the third season of TableTop so it seemed a sensible choice. Indiegogo was the first crowdfunding website and is the second biggest crowdfunding site after Kickstarter so it is well-established.

All that said, Indiegogo does actually have one massive advantage over Kickstarter, and that's Flexible Funding - the fact that I would receive the funding (minus Indiegogo fees) even if I didn't reach my target goal was a fantastic benefit for my project, where I didn't need to reach the target I set.

How big was your budget before you launched your crowdfunding campaign?
Pretty much nothing! I was willing to buy a few blank journals and mail them out to people out of my own pocket, but bearing in mind that each one sent out costs up to £8 - and I don't really have much spare cash - I was more or less starting with nothing.
How far along was your project before you felt ready to launch a crowdfunding campaign? In hindsight, would you have preferred to be farther along, or to have crowdfunded earlier?
I jumped into crowdfunding far too early on. I basically had the idea for the project, did a quick Facebook post about the project, from that thought that there might be value in doing a crowdfunding campaign, and set it up with a small amount of planning. It was a fine stage of the project to do the crowdfunding, but I should have planned more.
Can you explain how you prepared for and managed your campaign?
I read a lot of blogs about crowdfunding and how to do it. I learned that I needed to get a good amount of income early on in the campaign so I lined up friends and family to donate right at the start so I could show progress, and that worked well.

I had roughly planned how I was going to promote the project and where to, but to be honest I could have done a lot more.
What tools did you use to market your campaign? Do you feel like you did so successfully, and if not, what could you have done differently?
I used various social media channels - my blog, my YouTube channel, Twitter (I use Hootsuite to set up tweets in advance) and Google+ groups, I also did a lot of work promoting the project manually by emailing literally hundreds of writing groups around the world, going on my local radio station, and I also found my old colleges and universities liked to hear about an alumni of theirs doing something that they put could on their blogs (it worked quite well that I ran the campaign in the summer when they probably didn't have anything better to promote!)
In retrospect what were your best assets for running this successful campaign? On the other hand, what would you do differently?
Friends and family were a great help to me and kept me motivated throughout. However, I should definitely have planned more. For example, as I say I emailed tons and tons of writing groups. However, they generally only meet once every 4-8 weeks, and as my campaign was only a month, sometimes I'd miss their meetings.
Another thing was a lot of my promotional literature was very amateurish - my graphic designs skills are non-existent, and basic things like having a half decent logo, some good pictures and branding were missing.
What was your biggest challenge during your campaign?
I would say keeping motivated, but it did seem like every time I started to get a little downhearted another donation would come in and cheer me up! Finding the right crowd was difficult - I went for writing groups but I'm not entirely sure that I quite got the right people, I do think to this day that if I had marketed the project better I could have got a huge amount of interest.
What's the most valuable advice you could share with aspiring crowdfunders?
Plan, plan, and plan! Get clearly written down how you are going to get your funds in, who you are going to approach when, how you are going to keep things updated throughout the campaign, and make sure that your project stands up to scrutiny - what exactly are you going to do with the money, when are people going to get the thing you're promising, and how are you going to deliver?
This post is part of the #CrowdfundingCrashCourse series. You can find the entire series of interviews and summary posts here.

---