In My Community: Speaking to Red River College's Creative Communication Students
Earlier today I had the pleasure of speaking to students in their first year of the Red River College's Creative Communications program (aka #CreComm) about the state of social media, blogging, and the future of digital communication with my longtime internet pal Liz Hover.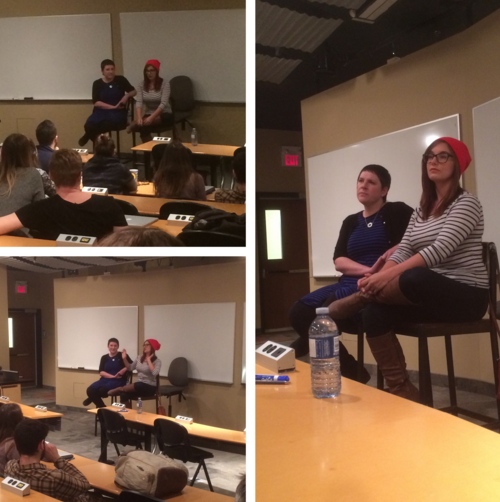 (Really digging my Neil DeGrase Tyson hands in the bottom left, by the way)
This is actually my fifth year returning to speak to students in the program (my first time was in 2011 - how time flies!) and every year it gets better; not just because I get to see new faces and have brand new discussions, but because as my life has changed I've become better suited to be able to speak on these topics, going from a university student, to a university graduate, to being employed full-time and finally to running a business where I literally blog and do social media all day.
As usual, we didn't have enough time to cover everything that I wanted to speak about, so I wanted to cover a few topics that didn't really wrap up during my time with the students today.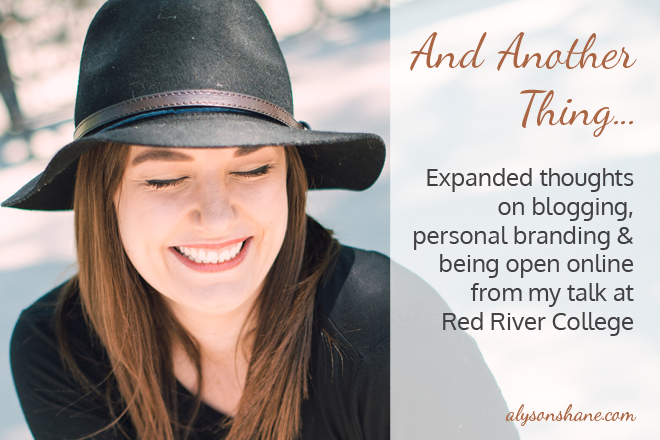 Merging My Personal Brand & Business
I started off as a lifestyle blogger in 2003, back on LiveJournal, and spent a number of years blogging rather aimlessly and not with a lot of purpose. I blogged frequently, sure, but it was usually just about what I'd done on the weekend, or a video I liked, or whatever.
What I had at the time was a strong personal brand, but as I started to think more critically about my craft I wanted to write about my weekends less and less, and about social media, content marketing, and being a business owner more and more.
Blogging for my business gives my blog a sense of purpose, and has provided me with a theme to tie together a lot of topics and ideas which would have seemed weird to write about as a lifestyle blogger.
During our talk Liz turned to me and said "I like your blog now; you seem a lot more happy and positive" and that's because I am. My lifestyle blog chronicled a time in my life where I was largely unhappy and trying to figure myself out, and as I've grown, learned, and gained happiness and confidence as a result of running my business it's translated into what I write here on my blog.
It's totally okay (and normal, and expected) that your blog will change and grow as you do over time - that's okay! We're in a constant state of self-discovery, and our blogs and websites should be a reflection of that.
On Having Anxiety & Being Open About It
One of the things that we touched on in the class, and which several students asked me about afterward, was how I dealt with being an anxious person, and what led me to decide to share some of my personal struggles with my audience when some of them could be potential clients.
I first wrote publicly about my issues with anxiety for Bell Lets Talk Day in 2015. The post is called Living With the Mean Reds and it was one of the most popular posts I've ever written. Since then I've blogged about my progress, which apps I've used to help manage it, and even written about my falling-out with my family, and creating a family of choice to move forward in positive and constructive ways.
None of it is easy to write about, and one of my other family members cautioned me that writing about this side of my life may actually alienate potential employers or clients. My response to that is: if having anxiety or issues with my family stops someone from wanting to work with me, then we wouldn't have been a great fit anyway.
I'm going to do what I want and the kinds of people who respect and appreciate what I have to say will find me and want to work with me. It's worked out great so far.

Besides that, as our digital world becomes less and less private, the onus is on us as individuals to take the time to craft the narratives we want about ourselves online. Sure, you can't control what other people say (remember The Dirty? Omg) but going out of your way to craft your own narrative is an important part of creating your personal brand because even though we like to paint pretty pictures of ourselves online we all know deep down that there are hard times and dark days, and part of being an authentic and relatable human being is being honest with yourself and your audience about your struggles, even if that's challenging sometimes.
What If Blogging Isn't Your Thing?
Creative Communications students have to blog as part of their curriculum, and during our talk we touched on the fact that - let's face it - blogging may not be for everybody. Which I agree with; writing isn't easy for some people.
However, I do think that it's important that young people who are entering job markets which require them to be creative (eg: digital marketing, advertising, public relations, etc) should make a point to find a way to express themselves creatively online in a way that they can point to in an interview and say "this is mine."
Blogs also don't have to last forever. My good friend Luke is running year24.com a blog about (you guessed it) his 24th year. This project is on the easy side because he set the parameters himself, and there's a concrete start and end date. What matters is that he made a decision to do something creative and challenging, and was successful in doing so.
But maybe you really hate blogging for yourself, and the idea of holding a camera not attached to your iPhone scares the living daylights out of you. What can you do?
There are a variety of things: start a killer Instagram account about your pet like Liz did; reach out to publications online and start writing for them (one of the very first places I was published online was The Spill Magazine, for example); start interviewing local business owners that you admire and compile them on a website; create and grow a killer Pinterest community; you get the drift.
What matters is that you demonstrate that you're constantly learning, looking for new challenges and opportunities, and can present what you know in a fun and accessible way. The sky is really the limit!
Want More?
Do you have questions about blogging, social media, or how the heck I got to where I am?
Are you a teacher interested in having me visit your class to speak about blogging, social media and digital marketing to your students?
Drop me a line! I'm always happy to have a quick email exchange, a lunchtime chat, or even an after-hours pint at the Yellow Dog. Looking forward to hearing from you!
*As always, thanks to Kenton Larson at Red River College for having me!
---