Tagged: life
- by Alyson Shane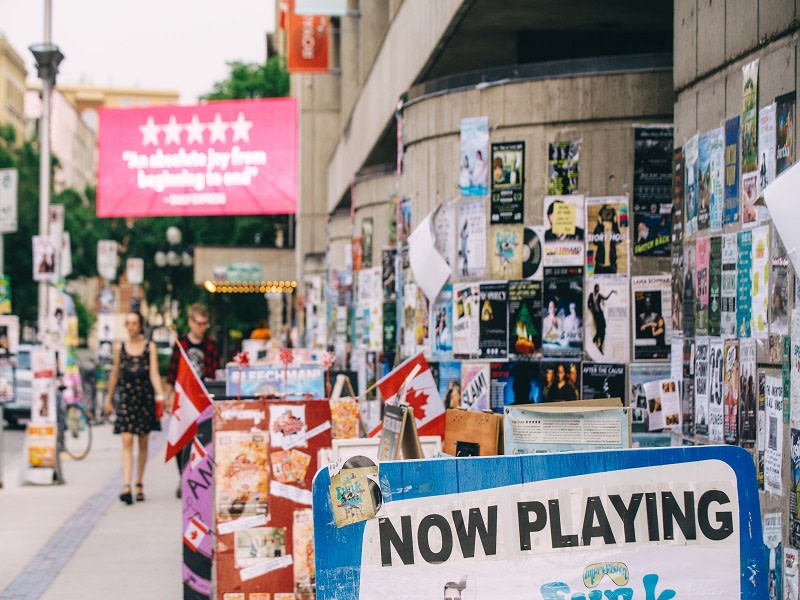 Image via Tourism Winnipeg
One of my favourite things about summers in Winnipeg is the annual Fringe Festival. I love the theatre and the huge variety of independent productions that come through the city each year, so when I was offered a handful of media passes to check out show shows in exchange for reviews here on the blog, you know I jumped at the opportunity.
In true "Shaner summer" style, I'm barely in town this week and am only able to attend four actual days of the two-week long festival, so starting last night I launched into an intense few days of plays, writing, and hanging out in the beer garden.
What follows are the plays I've seen, my thoughts, and recommendations intended to help you make the most out of your Winnipeg Fringe experience:
Let's dive right in:
The DnD Improv Show
I briefly thought about writing a more in-depth review about this show, but if you know you know.
Just pick a night and go see it; you won't be disappointed.
The Sidetrack Bandits
Presented by: The Sidetrack Bandits
I was actually supposed to see the opening show but had to work (ugh) so I was thrilled when we managed to find time on Thursday night to catch this hilarious sketch comedy show, especially considering that it turned out to be their third sold-out show this season.
This was actually my second time seeing this group perform (I saw them at last year's Fringe) and to say that they stepped it up is an understatement. The amount of slapstick comedy was like something out of a Charlie Chaplin movie — there's one scene in particular where two of the cast members were trying to "save" another cast member from drowning in a flash flood where they basically threw him around like a limp, flailing Gumby.
There were several stand-out skits, including one where a teacher is trying to interpret what her Gen X students are saying in their internet lingo that made me feel both very cool (for recognizing all the lingo they used) and very old (for the same reason), but the highlight of the show was a song sung from the perspective of a little boy who can't wait to grow up.
Highlighting the naive optimism of a young kid who can't wait to be in charge of his own life, it's a stinging and ridiculous reflection of how maybe being a grown up isn't all it's cracked up to be.
(Except for days when you bike around hopping from Fringe show to Fringe show. Days like that are what make being a grown-up so great.)
This show made me laugh so hard I started crying — make sure to get your tickets for the last few performances before they're gone!
The Smallest Stupid Improv Show
Presented by: The Improv Company
Longtime Fringe goers probably recognize this title as a nod to the eponymous "Big Stupid Improv Show" and this performance by improv actor (and our pal) Stephen Sim is a unique, intimate, and (of course) hilarious nod to it.
"The Smallest Stupid Improv Show" is a solo improv show that highlights Stephen's ability to not only think fast on his feet, but to do so with the same charm and wit that any of us who have seen him perform have come to expect.
Based only on audience suggestions, Stephen wove together a completely brand new, never-before-seen story that managed to connect scientists looking for asteroids, a military official visiting a high school gym, and a lonely, bored asteroid hurtling through space.
It's truly a one-of-a-kind, hilarious show that showcases Stephen's range and ability as an improv actor, and it's all backed up by an improvised score by DJ Hunnicutt who was performing live for the first time since losing his sight, which made the performance extra-special.
Six Chick Flicks Or: A Legally Blonde Pretty Woman Dirty Dances On The Beaches While Writing a Notebook on The Titanic
Presented by: Kerry Ipema and TJ Dawe
Besides being a mouthful to say in its entirety, this play is a must-see for anyone who has a deep love of cheesy clicks but struggles to come to terms with how women are portrayed in some of the most iconic "chick flicks" of our age.
One of the things that impressed me the most about this show was the speed with which performers Kerry Ipema and KK Apple run through the plot and characters of each movie, all while providing a searing critique of things like logical inconsistencies (of course perm knowledge in Legally Blonde will always apply to all of Elle's cases!) and regressive feminist policies (of course Baby is only "Baby" until she gets sexually freed and, by extension, grows up through the male gaze and influence).
An excellent observation punctuated throughout the play was the reference of the "Rose Effect", which refers to Kate Winslet's character in The Titanic, pointing out that her character was clearly written by a man because a) she's totally fine posing nude for a complete stranger, and b) has an orgasm the very first time she has sex.
(All my ladies will be able to appreciate the total absurdity of that experience, I'm sure.)
Jokes aside, an especially poignant moment was when they talked in depth about the havoc that unsafe and illegal abortions wreck on women's lives (à la "Dirty Dancing", of course) which felt important and timely considering the recent overturn of the ruling by the U.S. Supreme Court.
As someone who has been fascinated with how movies and culture shape society's expectations of what "being a woman" is like since I first read Anais Nïn as a teenager, this quick-witted and hilarious romp through some of the biggest cinematic influences of our time didn't disappoint. Definitely don't miss this one!
Broadway at The Blue Elephant
Presented by: 7 Ages Productions
As the title suggests: if you love musicals (which I do) then this is the show for you.
My mom actually chose this show as "our" Fringe play of the year, and I was over the moon at the chance to sit and experience some of Broadway's most poignant pieces about love.
Contrary to a big Broadway stage production, "Broadway at The Blue Elephant" is a concert presented as an intimate performance featuring some of the most iconic songs from hit musicals across the years. It's a simple, stripped-down, heartfelt performance that emphasizes the lyrics and emotion of each song and reminds us as an audience that the power of the human body as an instrument is the most poignant part of a song.
From "I Dreamed a Dream", to "Send in The Clowns", to "Some Enchanted Evening" and more, musical theatre aficionados will appreciate the love that has clearly gone into these performances (and some might even make you tear up a little bit — Mom and I definitely both got a bit emotional!)
The vocals are impeccable, the performances are moving, and "Broadway at The Blue Elephant" knocks it out of the park.
Barry Potter and The Magic of Wizardry
Presented by: Dirk Darrow Investigations
Confession: this is the play I was most excited to see at this year's Fringe. I've been obsessed with the film noir-style "Dirk Darrow" series over the years and was super excited to see that Tim Motley is back with a new character and a whole new slew of magic tricks.
Motley appears onstage as a middle-aged Barry Potter (who for some reason is still wearing his Hogwarts robe) who describes himself as a "down on his luck wizard who peaked at 17" who now tells stories to Muggle audiences using a blend of comedy, magic tricks, and mentalism.
Even though you don't need to be a Potterhead to enjoy the show, those of us who grew up reading or watching the Harry Potter series will definitely enjoy the jokes and jabs made at the expense of the wizarding world.
Delivered with the same cheesy, smarmy attitude that made me fall in love with the Dirk Darrow series years ago, "Barry Potter and The Magic of Wizardry" is a hilarious and engaging show.
The Family Crow: A Murder Mystery
Presented by: The Pucking Fuppet Company
I try to check out at least one puppet show at every year's Fringe, and I'm so glad we picked "The Family Crow" — after all, how could I say no to a play that describes itself as "Puppets! Puns! Murder!"?!
The other puppet shows we've seen have been more like puppet shows, but this one had a more Jim Henson, The Dark Crystal-esque feel. Between the strategic use of the lights, shadow, and an unbelievably articulate series of movements, this play draws you in and leaves you both intrigued and gasping for air (mostly because of the really silly puns).
Described as "a puppet show for grown ups", the performance consists of ____ in a caw-stume (see what I did there?) essentially acting out a one-man performance while reciting the story of how a murder has been committed in the mansion of the Family Crow, and how now it's up to Horatio P. Corvus, Sorter Outer of Murders to crack the case.
Jam-packed with more puns than I thought could possibly get stuffed into an hour-long show, this performance is a masterful example of puppeteering and an excellent example of bringing a unique and creative vision to life.
The Murky Place
Presented by: Subscatter Productions
I'll be honest: while I love watching contemporary dance, I don't always feel like I "get it" and that can sometimes take me out of the experience as an audience member because I get caught up trying to make sense of the performance instead of just enjoying it.
Fortunately, this wasn't the case with "The Murky Place", a series of three contemporary dance premieres from Oriah Wiersma, Alex Elliott, and my friend Kayla Jeanson.
Set to soundscapes crafted from recorded memories, violin, and Icelandic lullabies, the performances manage to draw you in and leave you almost breathless in some cases. This intimate pantomime of the human experience explored through three different perspectives was as moving as it was intriguing.
The show starts with Oriah Wiersma's slow, intense build up set to recorded memories and interpreted with tense, staccato movements that leave you almost breathless.
Up next is Kayla Jeanson's performance, set to lilting violin which builds into a personal, intimate, grasping of self that feels like she's fighting against herself and left me nearly in tears.
Finally, the show ended with Alex Elliot's performance. An interpretation of an Icelandic lullaby which she started developing during a residency in its country of origin, the performance works its way from an almost claustrophobic binding to a slow, acute series of movements that leave you on the edge of your seat.
"The Murky Place" was a beautiful and haunting exploration of self and is definitely a must-watch.
Field Zoology 101
Presented by: Shawn O'Hara
I went into this play totally blind (my brother picked it as our Fringe show to check out together) and while I got the sense that it would be a silly romp, I don't think I was quite expecting the level of crass humour and hilarious, deadpan jokes that this performance delivered.
As an audience, we find ourselves in the classroom of Dr. Bradley Q. Gooseberry (Shawn O'Hara), who strides out in a tilley hat, cargo shorts, and a totally-not-fake moustache. The performance is essentially a John Cleese-style monologue amplified by drawings shown on an overhead projector, giving it a real "classroom" feel for us 90's kids.
As a class we collectively become zoologists by taking a pledge together, and then we settle in to learn about burning nature-based questions like: what are the beauty secrets of peaCOCKS (his emphasis)? Or what's the virility of a tiger?
While some of the jokes definitely fall into the cringey so-bad-they're-good category (a which I love) one of the best parts was the improv section where Prof. Gooseberry answers questions about animals written down by audience members in advance, showing off his impressive improv skills.
I've seen a lot of comedies at the Fringe over the years, and Zoology 101 was one of the best I've seen. I literally laughed until I cried.
So while you might not walk away with a deeper understanding of (most of) the animal kingdom from this play, you'll definitely walk out with a smile.
A big thanks to the Winnipeg Fringe Festival for the opportunity to review some plays and get the most out of the Fringe experience this year!
---