Tagged: travel
- by Alyson Shane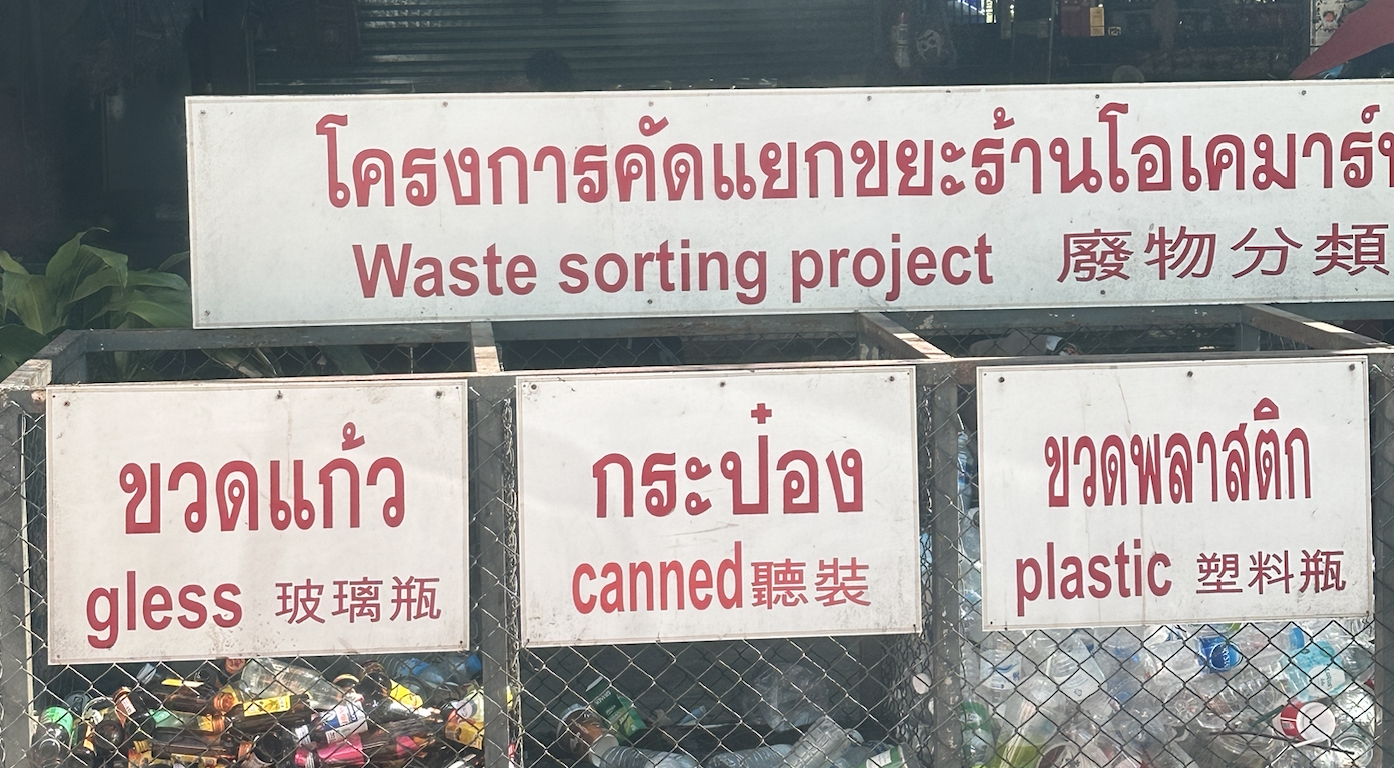 I'm writing this on our balcony in our AirBnB in Pai, Thailand.
Most of what I can see are big palm leaves but in-between them I can see the tin roofs of houses
a satellite dish, trees
and, way off in the background
some of the most jaw-dropping mountains I've ever seen.
Pai is a tiny city of about 2,300 people high up in the Northern part of Thailand and is a popular spot for hippies
which you can tell right away by the abundance of
yoga studios, meditation workshops
breathwork retreats
kale and chard growing in every shop, and
more ads for avocado toast since I was in Toronto last fall.
We're here for none of those things because in addition to being a hotspot for hippies, Pai is also close to waterfalls and natural hot springs and a land split we're planning to check out while we're here.
Tomorrow we'll have been in Thailand for a week. We started to leave Canada last Friday and our flights were originally supposed to be
Winnipeg > Vancouver > Tokyo > Bangkok
but because air travel is a shitshow right now our first flight got delayed which threw off the rest of the connecting flights since we only had a 1-hour layover in each place
(which already felt like playing with fire)
but the superheroes at Air Canada booked us on a new route that was
Winnipeg > Vancouver > Bangkok
which came with a 9-hour layover in Vancouver and a 16-hour flight right to Bangkok.
Protip: if you have a long-ass layover, and especially if you have a long-ass flight ahead of you, shell out for one of those fancy lounges with free food, drinks, and omg a shower. Life changing stuff, let me tell ya.
We landed in Bangkok around 5 AM and split a taxi with Cort and Abe and Josh who we met on the plane to get to our respective stays. I was getting crabby in the wet, humid Bangkok heat but as soon as we got into our AirBnB and I showered 16 hours of plane stank off myself
(what is it about planes that makes you so gross?)
I found a new lease on life so we set out to to reacquaint ourselves with that big, bustling, sweltering city.
We haven't been back to Thailand since 2019 and it's soooooo good to be back.
Even though we pulled it together to met up with the boys and had dinner with Josh we were wiped from two days of travel
(we left Friday AM and arrived in Bangkok Sunday morning)
and crashed at like 9 PM like old people.
Over the next few days we got Thai massages, pedicures, ate super cheap (like $2 each) food from roadside stalls, met up with some folks from Winnipeg (!!) and clocked about 30,000 steps every day wandering around.
Wednesday we caught the night train up to Chiang Mai, and waking up to the sunrise over the Thai countryside was every bit as beautiful as I remembered.
Chiang Mai has been my favourite place we've been in Thailand to date. We spent a week there last time and it didn't feel like enough and this time we were only there for two nights because it's the stop-over on the way to Pai and it definitely wasn't enough.
But in two nights and one whole day we managed to squeeze in:
dinner at the Cowboy Hat Lady's stall (of Parts Unknown/Anthony Bourdain fame)
shopping and drinks and wandering around the night market
ringside seats at a Muay Thai tournament
sitting VIP at a drag cabaret show
(where John got pulled up onstage and made his debut as a drag queen)
visiting at least a dozen wats (temples)
and clocking lots of steps
so, so many steps.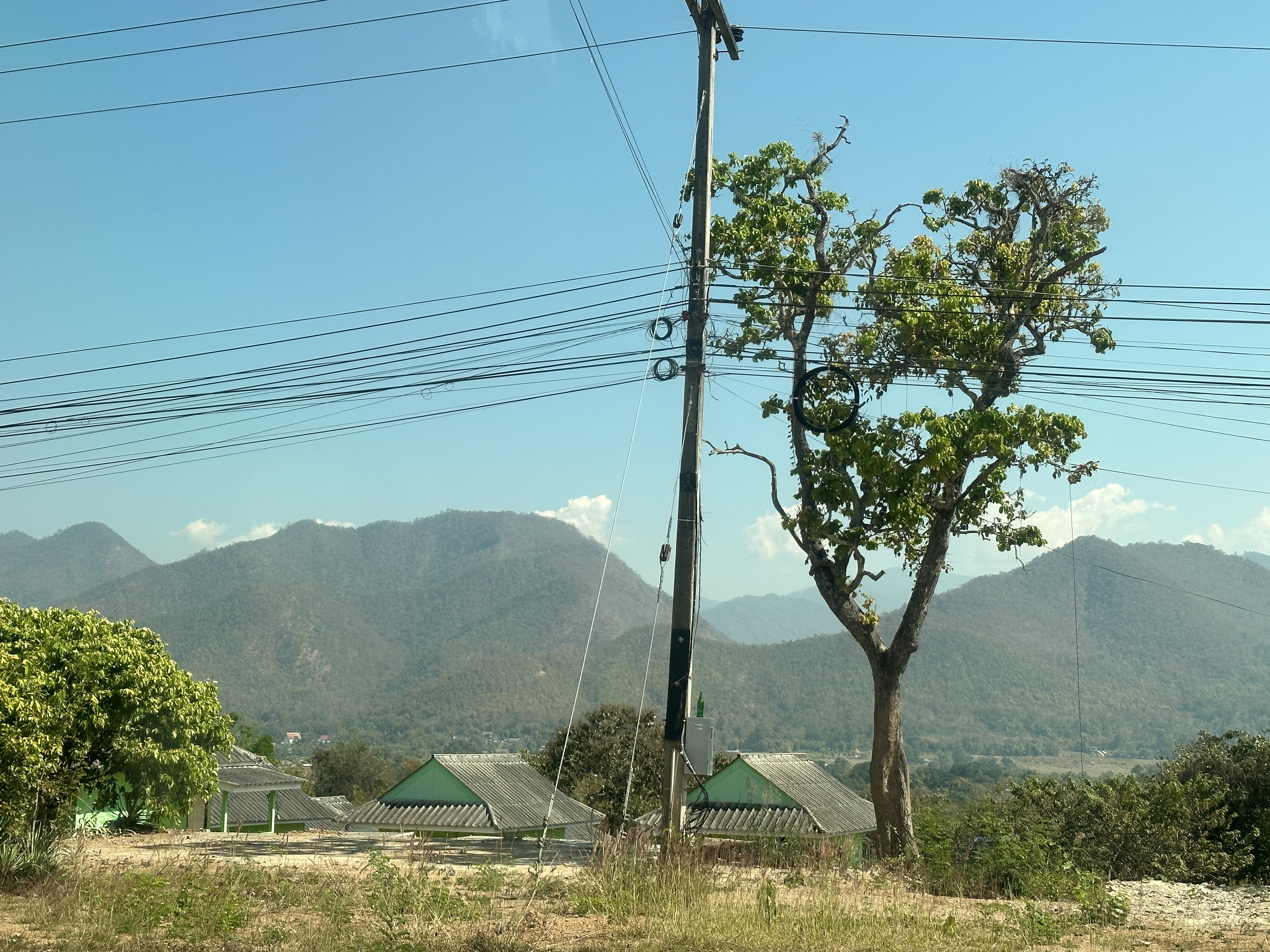 This morning we got up early and took a bus to Pai which can only be accessed by infamously windy roads where apparently people regularly barf on the bus from motion sickness.
When I first heard about it I was like "nah"
but after almost 3.5 hours of
twisty, windy, sharp turns
and a body full of malaria meds
(which we started taking yesterday in prep for our time in Pai, and which gave us both some tummy times)
yr girl wasn't feeling so hot.
To be clear: I did not barf on the bus to Pai.
But I definitely had to spend some time focusing on the mountains out the window, taking deep breaths and humming a lil bit to distract myself from the mounting feeling in my throat.
Anyway I was pretty happy to be off the bus.
Since getting here we've walked around
(are you sensing a theme here?)
ate papaya salad and pork, rice, and Thai basil for lunch
dropped our laundry at a laundromat
had a beer and people-watched
talked about new tattoo ideas
and now here I am, drinking a Chiang beer (my fav local bevvy) and writing this to you.
It's wild and exciting to think we have several more weeks of this
months, really
to soak up this country and a few others we're planning to hit
(Cambodia, Vietnam, and Japan, specifically).
I've missed travelling and exploring new places, seeing new things
eating all the foodz
and being moved
reminded
and humbled by the kindness of the people we meet everywhere we go
especially the lady at the front desk who helped me open this beer, since I was a dummy and forgot to buy a bottle opener.
I took the beer down to the lobby, motioned to her so she knew what I needed, and she laughed
took the bottle from me
and slammed it against the railing, knocking off the cap
(something I would never, ever do somewhere where we were staying)
and said in broken English "you knock off! Is easy! You do upstairs too!"
(something I would have never imagined she'd suggest)
so I bowed and said "krap khun kha" (thank you in Thai), feeling silly, and went back upstairs.
As I walked back to our room I heard her laughing with her friend
and the way she talked I knew they were laughing about me
and my dumb question

and I loved it.
I missed being a dumb tourist.
---