I miss Thailand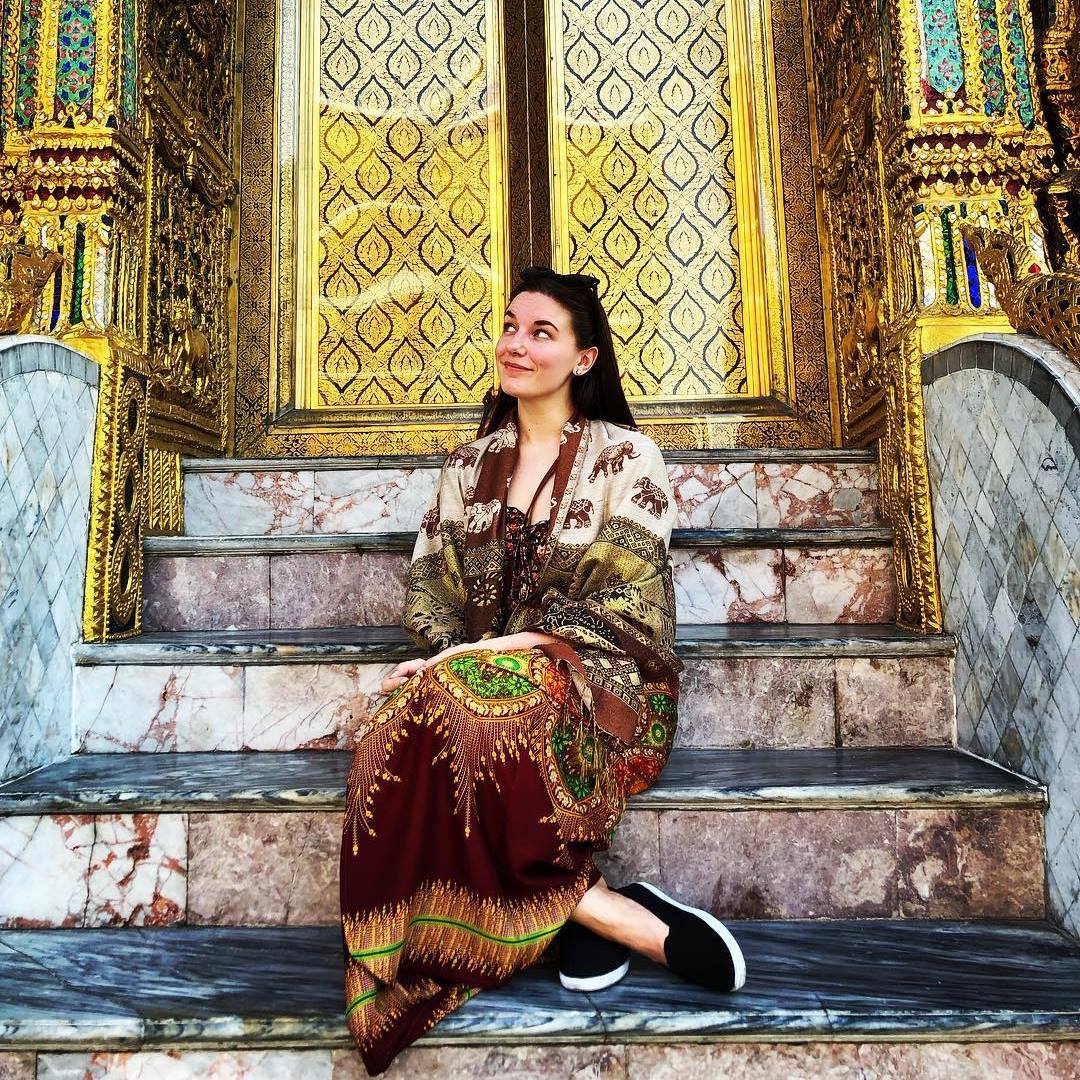 We're home and I'm so jet-lagged that I feel sick. My sleeping pattern is all out of whack and I've been awake since 3:30AM this morning and am going to try and stay awake all day to reset my circadian rhythm.
But Thailand was worth every lost hour and every weird grumble in my insides.
We were there for nearly a month, and stayed in Bangkok, Chiang Mai, Koh Tao, Phuket, and Bangkok again before flying home.
Bangkok was insane. It's big, bigger than I realized or can describe. The city, which houses 8.5 million people, stretches for miles and miles.
There was a smog warning when we were there and you could taste it in the air. Lots of people wore masks.
We saw Buddhist monks everywhere in their bright orange robes with their shaved heads. We saw a group of teenage monks filing into a 7-11 to buy popsicles to beat the heat which made me laugh.
The heat. My god.
+35C most days, humid, sticky and perfect.
The best weather, food, and vibe were found in the northern city of Chiang Mai.
We found the Cowboy Hat Lady, made famous in that episode of Parts Unknown and it probably comes as no surprise that the food completely lived up to the hype.
Almost everything we ate was made at a stall, cart, or cobbled-together shack on the side of the road (except some yakiniku and shabu-shabu that we ate while in Phuket).
I will deeply miss the food there.
Thai food (and Asian food in general) is so much more interesting and complex than North American food, I think. It's layered and spicy and every bite is different.
I discovered Prik Nam Pla, which is a condiment sauce made by pickling chilies in vinegar and fish sauce, sometimes with sugar to cut the tang.
It can be kinda dull or spicy af, depending on where you are; everyone makes it, and everyone makes it a little differently.
Everyone in Thailand has "their recipe" for everything, which means there's a huge variety in how the same dish can turn out, and it's always good. I didn't eat a bad meal the entire time we were there.
The thing I will miss most about Thailand isn't the food, though. It's the people.
Everyone we met was so gracious, kind, and helpful. They seemed to appreciate that we tried to learn the language, which I'm sure we still butchered because Thai is a tonal language and is much more subtle than you realize while listening to it as a non-native speaker.

I'm going to miss saying (and lightly butchering) "sawasdee ka!" when greeting people, and giving a wai (a slight bow with hands pressed together) and saying "khob khun kha!" as thanks.
I'm going to miss being immersed in the Buddhist culture. All the little spirit houses, monks, wats, and flowers everywhere.
I felt peaceful in the wats we visited. I liked taking my shoes off and covering my shoulders and my knees out of respect for their places of worship. It was such a simple, nice form of reverence.
I've never been a religious person, but Buddhism is something I can think I could get behind.
We met the most amazing people, as usual. John and I have good luck that way.
Every time we go on vacation we wind up having nights that make us wake up the next day and say "can you believe we did that?!"
It's also way easier to power through a hangover when you know a spicy bowl of Tom Yum at the stall around the corner.
(Did I mention I'm going to miss the food?)
Obviously though, the best part about the trip was spending it with John.
I really lucked out in finding a guy I travel well with. He's so patient and outgoing and records every day of our trip in a book every time we go on vacation, which is the cutest thing.
He even glued Thai coins and kept all the transfer stickers they gave us to get on different planes and boats in the book too, omg.
At the end of our trip we got matching tattoos. Which sounds lame and dumb but hear me out:
We're getting married next year and neither of us want to wear wedding bands day-to-day, so we decided to get matching tattoos of the constellation "Ursa Majora", which is a nod to a deep and weird inside joke and our love of science and space.
They're both in the same spot, below our hearts. Pointing us home.

I know it's cheesy but whatever. I love them.
I wish I could describe everything we saw and did in that amazing country.
How green and lush and humid it is. How every back lane looked. How the sky looks from the beach on Koh Tao at night. What it feels like to be lulled to sleep on the Night Train to Chiang Mai.
But there aren't enough words to explain it all. All I can do is hold onto the memories of the things I experienced as tightly as I can, and plan to make more of them as soon as I can.
I'll miss Thailand.
But I'm really gonna miss their food, though.
---