Elle at the PTE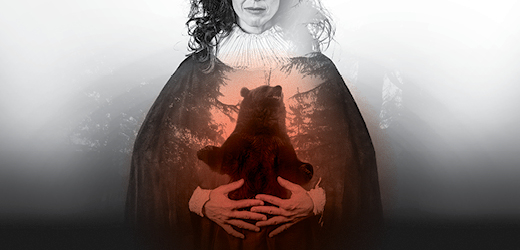 There are few things as powerful as a strong one-person performance, and while Severn Thompson's performance in Elle wasn't completely solo, the 90 minutes that she spent on the stage, almost entirely on her own, were appropriately gripping and moving.
Exploring French-Canadian History
Elle is a theatre adaptation of the Douglas Glover's 2003 novel of the same name which is currently playing at the Prairie Theatre Exchange. The story focuses on the tale of harrowing survival in pre-colonial Canada, and weaves in themes of feminism, magic, and terror into a gripping performance that demands to be seen.

The play, and the novel upon which the play is based, are an interpretation and expansion of the incredible story of Marguerite de La Rocque de Roberval, played by Severn Thompson, a French noblewoman who travelled to Canada and was marooned on the Isle of Demons, a phantom island, an island off the coast of Newfoundland. She was marooned by the captain of the ship, her relative, who dumped her overboard as punishment for taking a lover during the voyage.
Marguerite is joined by her lover Richard, her maid Damienne, and a boat full of broken tools. Discovering that she is pregnant, she struggles through a series of hardships as her pregnancy progresses: Richard becomes ill and dies; Damienne, too, eventually succumbs to starvation and sickness, and, pregnant and alone, Marguerite's spirit begins to break.
A character who began as a confident and aloof young woman is suddenly left to face the harsh Canadian winters alone, and Thomson's portrayal of a woman whose spirit is breaking in front of you is chilling take on dark humour, to say the very least. As she climbs inside the skin of a bear, worn-out, cold, and ready to give up, she is discovered.
Itslk, played by Johnathan Fisher, is an Indigenous hunter who believes that Marguerite is a spirit, having watched her emerge from inside the bear. He teaches her how to hunt and cook meat, and the real and spirit world begin to blend as Marguerite becomes more in touch with her newfound home.
Intimate and Gripping
Being the sole (or largely solo) actor on stage can be daunting, and often falls flat, but Thompson's depiction of a woman going through a traumatic experience and surviving managed to be both alarming and darkly funny. At times, when Thompson is describing their dire state on the island, living off of "books, bird bones and tennis balls" you almost feel bad for laughing as she trounces around the stage.
The most striking part of the performance, however, was how the stage was integrated with the story. The entire play takes place in front of a large structure which resembles a rib cage (an homage to the bear Marguerite finds, perhaps?) and is the perfect play to see at the Prairie Theatre Exchange because of the smaller stage size and the intimate setting.
By using a long sheet and wrapping it in various ways around the structure the stage is transformed from a ship, to a tiny tent, to the belly of a bear, and more. At one point, while Thompson wound herself up inside the sheet, crying out, it could almost be believed that she was truly losing her sanity.

Elle is a play worth seeing, and a reminder of the hardships that faced both colonists and Indigenous peoples alike all those centuries ago.
---