The COVID Carols [Lyrics]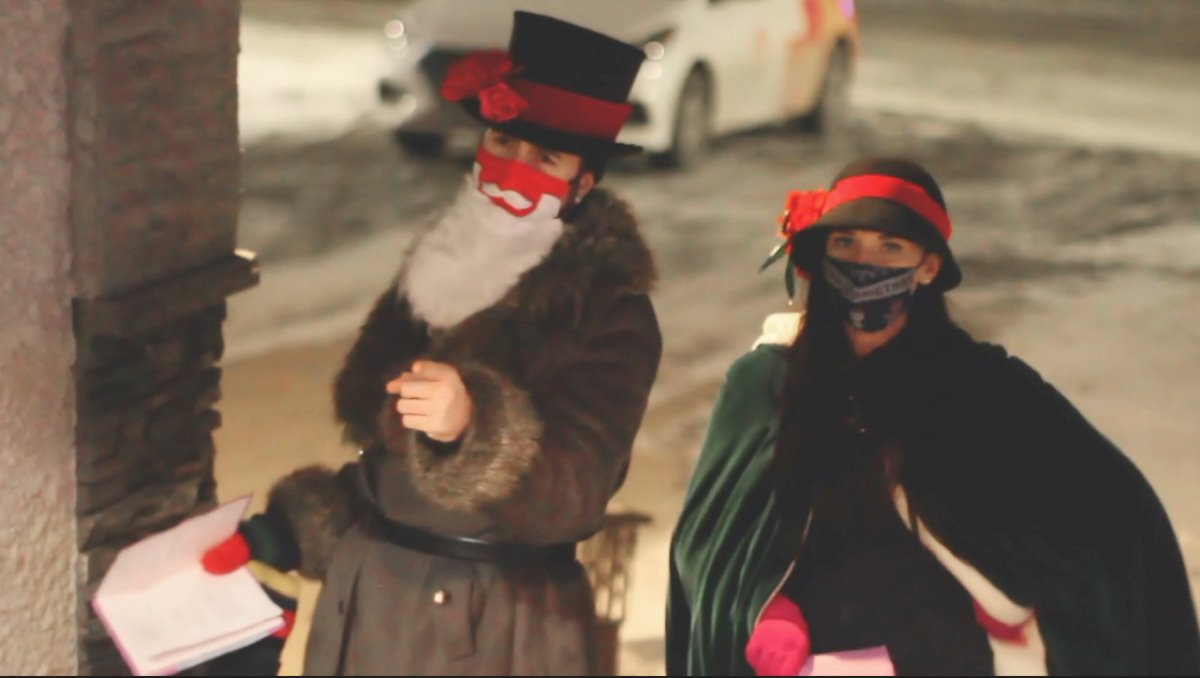 It's been a hell of a year and we miss the people we love, so yesterday John and I booked a Peg City Co-Op car and took our band "Big Trouble in Little Wolseley" on a whirlwind tour of Winnipeg to sing some (masked, socially-distanced) carols to our friends and family.
We didn't just sing any ol' carols, however.

Since COVID-19 has made 2020 an "extra special" year, we re-wrote two of the three songs we performed to include lyrics that reflect all the weird stuff we've been through, with a few dashes of Manitoba-specific lore thrown in for good measure.
The Winnipeg Free Press recently published an article about how Manitobans are going carolling (though they clearly missed out on the carolling story of the year if you ask me) and we figured — hey, if you're doing some socially-distanced carolling, maybe you'd like these extra-special lyrics, too.
Below are the lyrics to our two "original bangerz", and at the bottom of this post is an extra-special cover of "You're a Mean One, Mr. Grinch" dedicated to Manitoba's Premier (and resident Christmas-stealer) Brian Pallister.
Enjoy, and stay safe out there!
---
The Twelve Days of COVID
On the first day of COVID my true love gave to me
A Costco shopping spree
On the second day of COVID my true love gave to me
Two rubber gloves and a Costco shopping spree
On the third day of COVID my true love gave to me
Three face masks, two rubber gloves and a Costco shopping spree
On the fourth day of COVID my true love gave to me
Four marathons, three face masks,
Two rubber gloves and a Costco shopping spree
On the fifth day of COVID my true love gave to me
Five Zoom calls,
Four marathons, three face masks,
Two rubber gloves and a Costco shopping spree
On the sixth day of COVID my true love gave to me
Six feet of distance, five Zoom calls,
Four marathons, three face masks,
Two rubber gloves and a Costco shopping spree
On the seventh day of COVID my true love gave to me
Seven fundamentals, six feet of distance, five Zoom calls,
Four marathons, three face masks,
Two rubber gloves and a Costco shopping spree
On the eighth day of COVID my true love gave to me
Eight hands a-washing, seven fundamentals,
Six feet of distance, five Zoom calls,
Four marathons, three face masks,
Two rubber gloves and a Costco shopping spree
On the ninth day of COVID my true love gave to me
Nine rolls of T.P., eight hands a-washing, seven fundamentals,
Six feet of distance, five Zoom calls,
Four marathons, three face masks,
Two rubber gloves and a Costco shopping spree
On the tenth day of COVID my true love gave to me
Ten extra pounds, nine rolls of T.P.,
Eight hands a-washing, seven fundamentals,
Six feet of distance, five Zoom calls,
Four marathons, three face masks,
Two rubber gloves and a Costco shopping spree
On the eleventh day of COVID my true love gave to me
Eleven online orders, ten extra pounds, nine rolls of T.P.,
Eight hands a-washing, seven fundamentals,
Six feet of distance, five Zoom calls,
Four marathons, three face masks,
Two rubber gloves and a Costco shopping spree
On the twelfth day of COVID my true love gave to me
Twelve Bartley's tweeting, eleven online orders,
Ten extra pounds, nine rolls of T.P.,
Eight hands a-washing, seven fundamentals,
Six feet of distance, five Zoom calls,
Four marathons, three face masks,
Two rubber gloves and a Costco shopping spree
---
God Rest Ye, Merry Winnipeg
God rest ye merry gentlemen
Let nothing you dismay
Don't see your friends and families
This year on Christmas Day
You'll save us all from getting sick
So we can hang in May
Oh tidings of comfort and joy
Comfort and joy
Oh tidings of comfort and joy
In Winnipeg, in Canada
You may be feeling torn
We've all been locking down so hard
Can't we just have this morn?!
We've mailed all our letters
To give our leaders scorn
Oh tidings of comfort and joy
Comfort and joy
Oh tidings of comfort and joy
Fear not then, says Brent Roussin
Let nothing you affright
This day comes new restrictions
But they'll be gone by night
Follow the fundamentals
And you will be alright
Oh tidings of comfort and joy
Comfort and joy
Oh tidings of comfort and joy
---
And, finally, here's our rendition of "You're a Mean One, Mr. Grinch" dedicated to Manitoba's least favourite grinch/person, Brian Pallister:
---