Tagged: Engagement
- by Alyson Shane
Hello everyone!
I'm excited to announce that starting August 11, 2015 I'll be hosting a monthly Twitter Chat called #SocialHour. On the 2nd Tuesday each month we'll have a chance to come together and discuss ideas, challenges, and strategies for growing your audience and increasing engagement on your blog and social media feeds.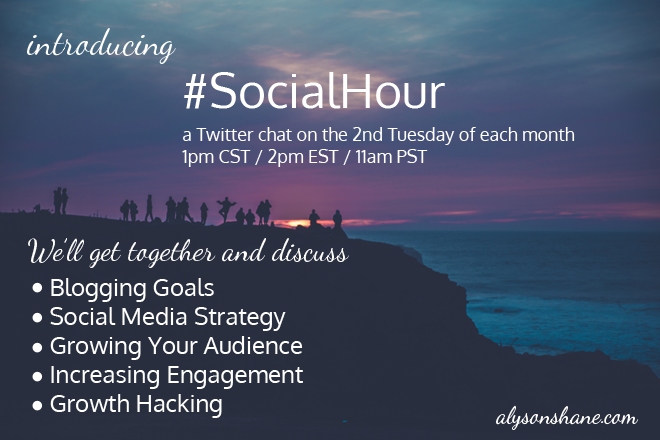 As you know, I'm a big believer in knowledge sharing, and I can't think of a better way for us all to learn and grow together than to make a time to have a chat each month about our challenges, our goals and how we plan to kick some ass that month.

Finding and growing your community can feel overwhelming by yourself, so let's do it together!
How can you join us?
Joining the conversation is easy, all you need is a Twitter account!
Once you're logged in you can follow the discussion by doing a Twitter search for the hashtag #SocialHour. If you get lost just hit up my Twitter account to find the hashtag link again and you'll be right back in the mix.
I'll prepare a handful of questions each month to get the wheels in your head turning and the conversation started, and we'll spent the next hour or so sharing our responses with each other and collaborating together.

I'll be posting questions with Q1, Q2, etc at the beginning, so you can easily keep track of what we're discussing. When you respond, simply add the corresponding number to your answer like so:
A2 My favourite cupcake is red velvet with cream cheese frosting #SocialHour
(great, now I want a cupcake - but you get the drift!)
But don't just reply to my questions, be sure to check out what other people are saying and reply to them as well! I'll also be retweeting some of my favourite contributions, and will help guide the conversation by engaging with everyone as we chat.
Sounds great! What now?

Remember to mark your calendars for August 11th at 1pm CT to join us. I'll be sending out a reminder the day before to my newsletter subscribers, so make sure to sign up so you don't miss out!
I can't wait to start this new project with all of you, and am looking forward to getting to know all of you and helping you find and grow kickass, engaged communities!
xox
Alyson
---