Tagged: Fantastic Contraption
- by Alyson Shane
One of the downsides of being a busy business owner is that I don't often get the opportunity to share what I've been up to on a personal level. I'm working on big biz-related surprises which will hopefully help me find more blogger balance (more on that soon!) but in the meantime, here's what I've been up to in the few weeks since I've been back from my trip: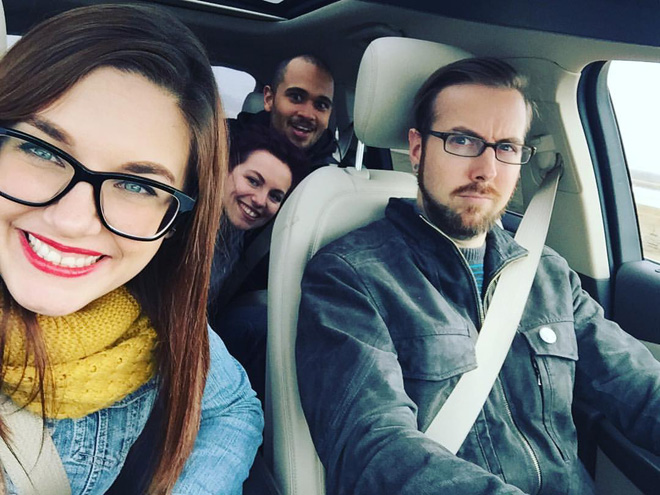 Burgers & Cars
A few weeks ago I had the opportunity to test drive a Lincoln MKX, which is classified as a "luxury crossover vehicle" and is by far the fanciest vehicle I've ever been in. As someone who's spent most of her time in Neons, Vibes, and Swifts (aka, not your mom and pop kinda van) it was a pretty great experience, especially because I don't have a car day-to-day.
With that in mind John and I decided to take the Lenore Street Squad (aka our roommate, Alex and his girlfriend Katrina) on a Manitoba-based day date to try and suss out where we could find the best rural burgers (also because while going to IKEA and cramming the trunk full of stuff is exciting for me, I'm sure you guys could care less about my amazing new lamp, but anyway).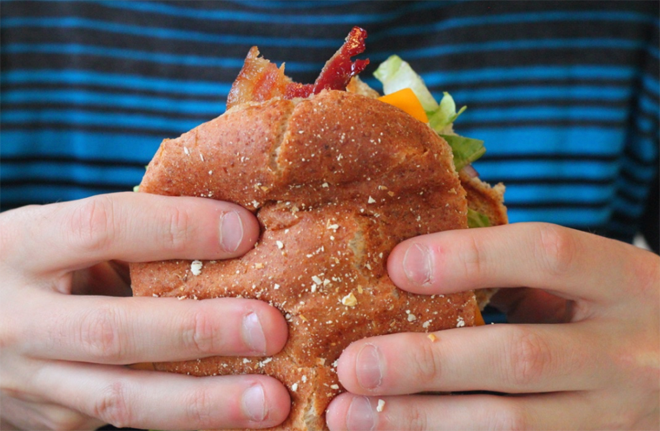 We hit up Trails North Grill, which is a super-charming burger joint located in Warren, MB. We gorged on fried pickles, salad, and (of course) burgers. I'm glad I wasn't driving on the way back because I was officially in a food coma.
Honestly it was also really nice to just get out of the city; I don't often have the chance to get to know my province a bit better, and even though some Silent Hill-esque mist descended upon us for part of the drive, it was still a ton of fun and a great way to spend some time with some of my favourite people.
Tattoos
Tomorrow I'm going under the needle and getting my first-ever tattoo!
While this is obviously a super-exciting event for me, it's also been a very long time coming. The tattoo I've chosen (it's script, actually) is meant to represent where I've come from: from a sad, unhappy and deeply depressed person to someone who does her best to take chances, challenge myself, and who works to make healthy, happy decisions instead of getting dragged back into the mire caused by unhappy and dramatic people.
When I first met with Katie from Metamorphosis for my consultation she told me that she doesn't usually do script tattoos, and as a rule doesn't do them for first-timers like me. However, after explaining my reasoning behind it, and how deeply personal the quote is, she not only agreed to design it for me, but she also told me that it was one of the best script-based tattoo ideas she'd seen in a long time!
What am I getting? Well, you'll just have to check back here and find out once it's all healed up! (Or follow me on Instagram, where I'll likely be sharing it first).
VR
Aka virtual reality!
A few weeks ago John and I spent a few days playing around in virtual reality as part of the trailer shoot for the HTC Vive game Fantastic Contraption and had an utter blast.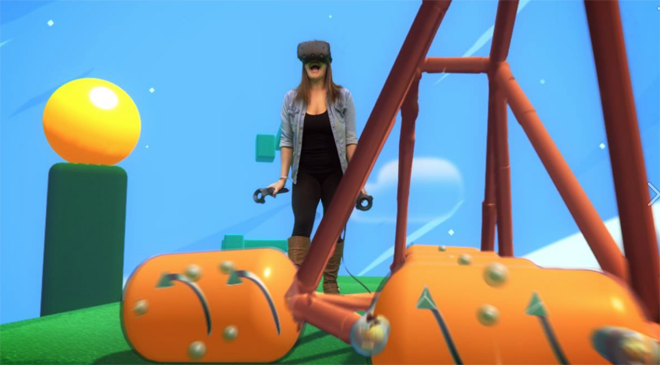 (Yes I'm every bit as excited as I look!)
The goal of the game is to create "contraptions" within a virtual space and send them rolling towards a goal while avoiding obstacles, staying balanced, and not rolling right off of the edge of the floating island you're standing on. The game is insanely fun and I'm really, really looking forward to playing it again soon.
Here's a little more about the game (featuring older trailer footage):
The coolest part about the shoot was that, since it was shot on a green screen background, the VR world that the player can see inside the headset can be stitched in to replace the physical world. This allows people watching the trailer to actually see what we saw, and experience the game in the same VR world that we did.
I definitely need to give a huge shout-out to the super-talented Kert Gartner for including us. I'm so excited to see the project when it's finished (and am always available for any future VR-related projects, hehe).
---