Tagged: Management
- by Alyson Shane
Managing your brand's online reputation is one of the most important things you can do to boost your recognition online and help attract, engage with, and build your audience.
Despite this, however, I've met way too many business owners and entrepreneurs who fluff off managing their brand profiles because they don't see it as a valuable way to spend their time. "It's so time consuming!" they say, or "I don't know where to start, so it takes me forever to get anything done."
Like most things, managing your brand can be an efficient process if you know what you're doing, so below are a few ways that you can condense your brand management down into an hour a day
(I know, right?! What will you even do with all that extra time?)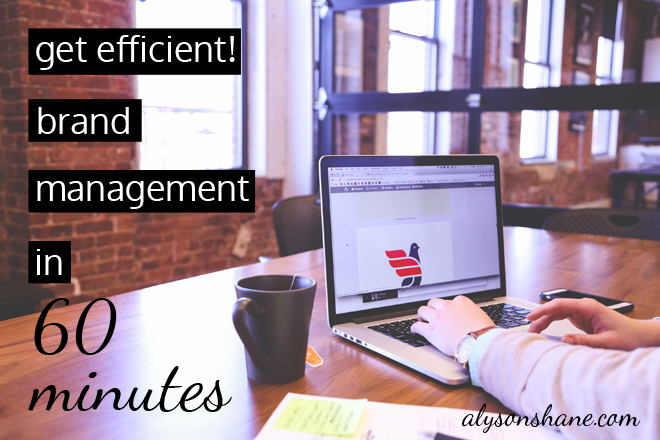 Monitor your social media mentions
(10 - 15 minutes)
In my experience, this is where brands allow themselves to slack off the most; people forget to reply to tweets, dismiss notifications from Facebook, or simply don't know what to say and so they say nothing at all. This is troubling, especially considering that recent research finds that 42% of people on social media expect to receive a reply to a complaint or concern within 60 minutes or less.
This might seem like a daunting timeline, but there are a few ways to keep on top of everything relating to your brand on social media: Twitter, Facebook and Google+ all have built-in search bars, and socialmention.com is a great resource for searching multiple sources for specific keywords. If you're on iOS like me, the Facebook 'Pages' app is a super-convenient (and free!) to manage multiple Facebook pages at once.
If you need something a bit more complex consider options like Sprout Social or Nuvi, which are both really affordable and allow you to monitor multiple terms, engage with your audience, and manage teams if necessary.

Get involved in existing online communities
(10 - 15 minutes)
Aside from social media, other online gathering places where people come together to discuss common interests and experiences are places like Reddit, LinkedIn Groups, and other message boards and popular blogs related to your industry.
By being an active participant on these public spaces, responding to comments, sharing news, and participating in discussions your brand not looks more trustworthy (people figure you have nothing to hide when you're up-front with information) and you build credibility as being a brand who is invested in connecting with their community and developing relationships with your clients.
Protip: if you need to monitor a variety of these communities, consider outsourcing your community management to someone who can dedicate more time to the task. Otherwise 10 - 15 minutes is all you really need.

Monitor and respond to reviews
(10 - 15 minutes)

John and I are currently in the process of planning a big trip next winter, and while looking at places to stay in Guatemala on AirBnB the thing that I found most interesting was the rate of people who came back to leave reviews, both glowing and negative, and how quickly the hosts would hop onto the site and personally thank people for taking the time to leave a kind message, or to apologize and explain why a stay might have been less than perfect.
Common internet sense preaches don't feed the trolls, and while I generally agree with this sentiment, if someone has taken the time to write out a lengthy reply about your business and you have the opportunity to log in and connect with that customer, there's a chance that you might be able to repair that bond.
So if your business is on Google Business, Yelp, or Foursquare, be sure to take the time to monitor the comments and take time to personally reply to them. I was extremely impressed with AirBnB hosts who made a point to connect with and discuss customers' experiences, and ask them how their experience could have been better, and odds are your audience will be, as well.
Remember: there's no way for you to track business that you've missed out on, so doing due diligence and being as connected with every customer and member of your audience as possible is always worth the effort.
Set up blog & media alerts
(10 - 15 minutes)

Setting up alerts is a huge time-saver, and allows you to stay on top of when your brand is being discussed in the media, on a blog, or any of the online forums we talked about earlier. This way, instead of revisiting the same places over and over again, you can set up your alerts and forget about them until they ping you with a notification - then, it's as easy as logging in and replying to whatever your audience has been saying about you.
If you're not looking for anything too crazy, Google Alerts is an easy to use and free alternative, but if you're looking to manage a larger, more complicated brand, Buzzsumo is the way to go. The pro account is $99CAD a month, and allows you to create alerts based on the following:
Your brand or specific keywords
Links to a domain, subdomain or exact URL.
Content from a specific author.
Content published on a specific domain that reaches a minimum number of total shares.
Wow! Did an hour go by already?
See what I mean? It only takes a little prep and an hour a day to make sure that your brand's reputation is growing, thriving, and (most importantly) conveying the right messages to your audience.
Did I miss anything? Do you have any tips that you'd like to share? Shoot me an email, tweet at me, or let me know in the comments!
---