Tagged: literature
- by Alyson Shane
Last night I was checking out a post on the amazingly well-named "Gates Notes" blog, run by Bill Gates, where he shared 5 of the best books he read in 2017. Of all the "roundup" type posts that tend to pop up this time of year, I like literature-related ones best because it gets me thinking about all the books I've read, and all the books out there that I've yet to add to my collection.
I definitely don't read as much as I used to (except that time I read all of Alias Grac's 564 pages in a week on vacation*) but I still manage to make my way through several books a year. However, seeing how much Bill Gates manages to read while also, y'know, being Bill Gates definitely acted as a reminder that I ought to spend more time with my nose stuck in a book.
* My god I can't wait to get down to Belize in January, read a shit-ton, and plan this wedding.
In any case, below is my roundup of 5 amazing books I read in 2017: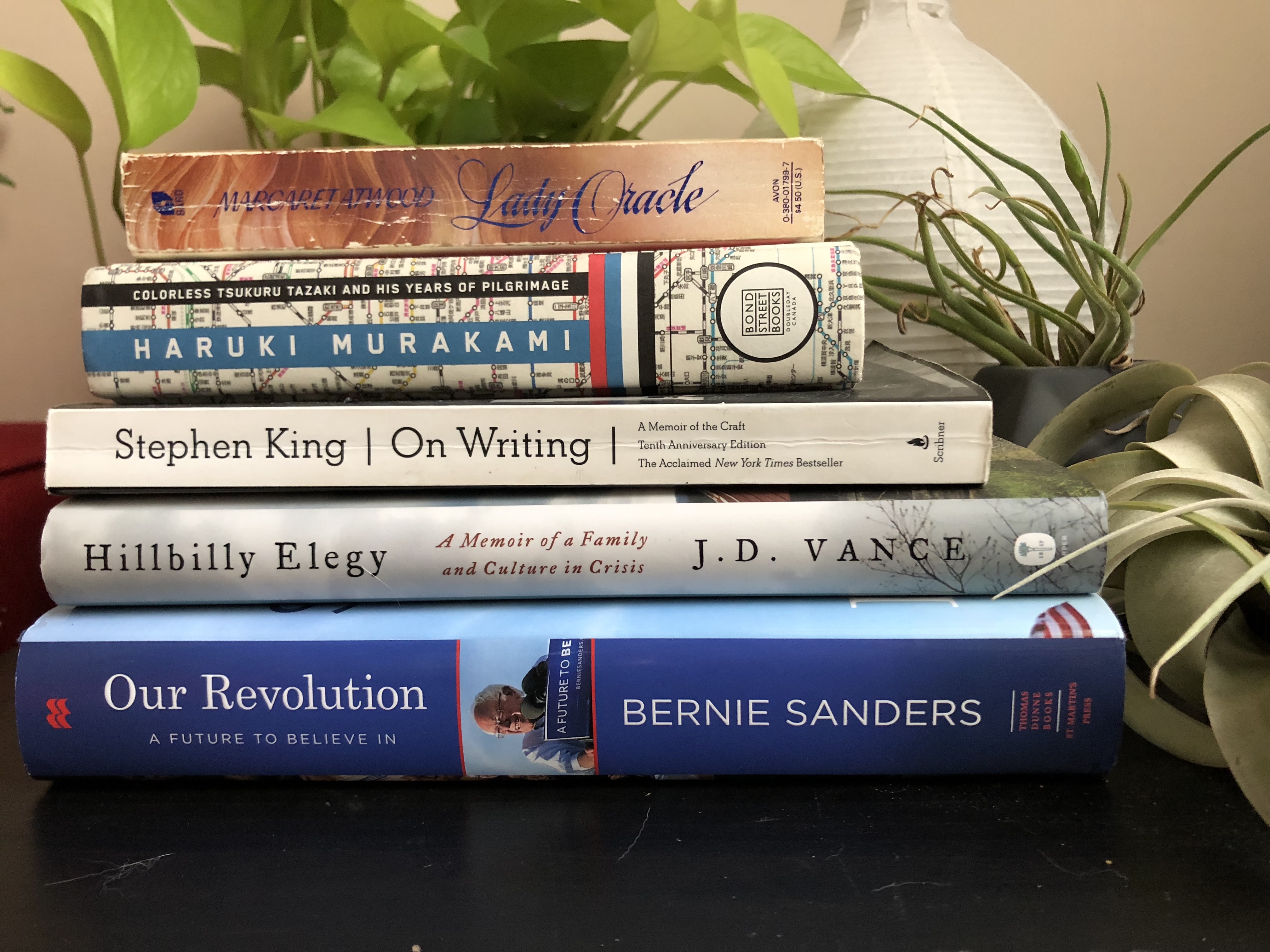 This one was hands-down my favourite. It's been a while since I've sunk my teeth into a good Stephen King novel; he kinda lost me with From a Buick 8 onward and I've never really gone back since (I think the trick is to go back and figure out which of his old works of horror and fiction I haven't read pre-Buick 8, and work my way up from there.)
As the name of the book implies, it's about writing. Not just why writers write, but an in-depth analysis of the challenges of being a writer, of struggling to have people accept your craft, and why you feel compelled to do it. It was nice to read about my craft in the words of someone who, arguably, is a much stronger wordsmith than I am, and who has been at it much longer than I have.
I also enjoyed being reminded of how funny he is; how quippy, with those weird little sayings that always made his characters that much more believable. His was a refreshing perspective on the art of writing, and reminded me that I should read more about what I do, not just the ways I do it.
Obviously I read Bernie Sanders' book, which was released in November 2016. I was pro-Bernie from the moment he appeared on the political stage (ask me about my views on climate change, free post-secondary tuition, or the need for universal health coverage.)
Since I was already pretty well-versed with his political ideas, and why he believed them to be true, the book served as an opportunity to develop a better understanding of how he and his campaign managed to harness the sentiment of a growing, engaged Millennial class of voters and capture the imagination of people like me to the point where he was able to, with no campaign money, no political organization, took on the Democratic Party establishment.
I haven't read any Margaret Atwood since my binge on Alias Grace a few years back, and it was refreshing to return to an author who spends so much time analyzing her character's motivations and fears.
The novel's main character, Joan Foster, is an author who lives secret lives from the people around her, constantly worried that she will be "found out" as being less than she is perceived to be (as someone who regularly deals with anxiety and impostor syndrome, this book was often like having my own worries read back at me.)
I felt like Joan was symbolic of contemporary womanhood: trying to be everything to everyone, all the while hiding, deliberately ignoring, or shaming herself for her fantasies and talents, and it was lovely to immerse myself in Atwood's witty and often surprisingly sharp prose.
Okay, so technically I haven't finished this one yet, but I'm close.
I haven't picked up a Murakami novel in years (I voraciously read through several of his novels in my late teens, my favourite being Norwegian Wood, which I highly recommend) and his brevity was an interesting contrast from Lady Oracle, which I finished shorty before starting this novel.
Like many of Murakami's novels, Colorless Tskuru is a Bildungsroman (hi, Rhetoric degree) though significantly less whimsical than some of his other works. The novel focuses on "colorless" Tskuru Tazaki, who is nicknamed as such because all of his childhood friends have a colour as part of their last names. One day during his college years he comes home and learns that his friends have cut all ties with him, seemingly with no reason. This devastates Tskuru, and leaves him feeling empty or "lacking in color and identity" according to Murakami. The novel begins when Tskuru is 32, and follows him as he travels to visit each of his former friends to discover why they cut ties with him in order to gain a sense of closure.
Since I haven't fully finished the novel I won't delve too deep into what I like and don't like about it so far, but I wanted to include it because reading work from non-English speaking authors is always an interesting experience. I mentioned Murakami's brevity above, and I'm continually impressed with his exploration of heartbreak, loneliness, and the human psyche without delving into the flowery language that tends to gum up English authors when they start delving deep into a personal or psychological problem. I'm really looking forward to seeing how the novel concludes.
I started reading this memoir shortly after the 2016 election which left me, like many other people, reeling and feeling as though they fundamentally didn't understand the surge of white anger happening in America. I was grasping for some sort of understanding of the kinds of people who would vote for someone like Donald Trump, and J.D. Vance's memoir about growing up in a small Appalachian town was exactly what I needed to broaden my horizons.
The memoir is part reflection, part sociological analysis of the "hillbilly culture" he grew up with, which acts as both a source of pride, and a social mechanism which keeps people firmly in their socio-economic place, unable to (and in some cases, unwilling to) do what was necessary for a better life for themselves. It was a stark, eye-opening analysis of what's happening in rural America, and how the social rot encouraged by "hillbilly culture" has affected the United States.
Did you read any amazing books this year? Tweet at me and let me know!
---
- by admin
"My dear, find what you love and let it kill you. Let it drain you of your all. Let it cling onto your back and weigh you down into eventual nothingness. Let it kill you and let it devour your remains. For all things will kill you, both slowly and fastly, but it's much better to be killed by a lover."
-Charles Bukowski
---