June 2016
- by Alyson Shane
Earlier this week I got together for a mini-tweetup or sorts with some local ladies that I know through a Twitter chat that I participate in. We had some lunch, enjoyed some laughs, and got to know each other a little better.
That experience got me thinking about the value of Twitter as a social network, and how easy it can be for people to find each other, create connections, and even grow their businesses.
As many of you know, Twitter is my favourite social network and I believe that the community I found online helped shape me into who I am today.
With that in mind, I wanted to share some benefits that I believe Twitter can have for you and your business, so let's get started: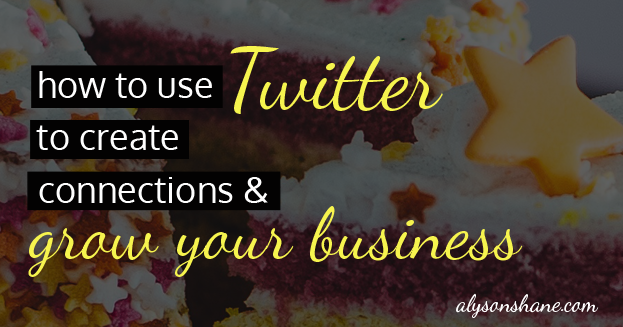 Interact with real people
One of the biggest objections I hear to Twitter is "I'll never meet real people! It's just brands and businesses!"
Not so, young social media Padawans. Not so.
One of my favourite stories to tell about social media was how I met my good friend Colin. I was pretty green to Twitter (circa 2009 or 2010) and I tweeted out something like "are there any meetups for creative types in #Winnipeg?" Colin tweeted at me, we proceeded to meet up at the next Secret Handshake meetup, and we've been friends ever since.
I talk about this a little bit more in my post How Social Media and Blogging Helped Me Discover Who I Am, but it's worth repeating here that Twitter is an excellent conversation tool because it democratizes your feed.
Currently Twitter's timeline is largely comprised of people you follow and you see their tweets in chronological order, allowing you to tweet at basically anyone you want, anytime. This means that you can connect with a celebrity, talk to a brand, or just reach out and start chatting with other people from your hometown, and you're all on the same playing field.
Create genuine, real-life connections
One of the secrets to using Twitter isn't to just tweet and expect people to find you. Sure, replying and RT'ing is a lovely way to let people know that you're out there, but finding twitter and participating in Twitter chats is one of the fastest ways to start seeing connections grow.
Essentially a Twitter chat is a chat hosted on Twitter which uses a chat-specific hashtag (this thing: #) to help users identify and respond to one another. Twitter chats tend to be grouped around themes or topics and can range from chats about beer, to parenting, to disability rights, and more!
One of my favourite weekly chats is #wecmchat, which is hosted by the Women's Enterprise Centre of Manitoba, and focuses on fostering discussion about business ownership and being a woman in business. I've met lots of local lady business owners in the year or so that I've been participating in the chat, and some of us even got together to grab lunch at a burger joint just outside the city: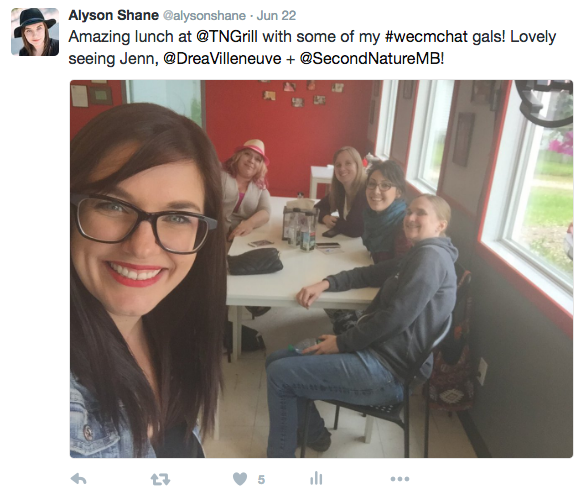 What's great about this chat is that I've met other like-minded people (my "tribe") and have formed connections with them that may not have existed otherwise, and gotten to know them in ways that I may not have if we'd only run into each other face-to-face.
This is the power of Twitter chats: to be able to get to know other people with similar interests, goals, and beliefs in informal and regularly scheduled times.
Grow your business
Twitter can absolutely convert those conversations to paying customers, but you have to put in the effort. Twitter doesn't have a quick ROI, so don't expect to go from 4 followers to 4,000 overnight unless you bought them from somewhere, which is a whole other topic in and of itself.
That being said, Twitter's power lies in its ability to let a business act like a human being. Unlike on Facebook, where business pages can't interact with personal profiles, businesses can Tweet to personal accounts. For example, if you tweet out "today is my birthday!" your local pizza place may tweet back "happy birthday @yournanehere!"
By engaging in conversation with other users businesses can use Twitter as a way to remind people that their business is there, and to create feelings of familiarity and trust as they engage in casual, positive, and non-salesy conversation.*
(*This is super important! While it's okay to tweet out about sales, special promos, and the like, it's bad Twitter etiquette to tweet anything prompting people to buy from you.)
While Twitter may have a slower ROI, it can absolutely land you clients. I can say this with absolute certainty because I've met clients who have followed me on Twitter and decided to use my services as a result. The more time you invest in talking to others and building connections on Twitter, the better your results will be.
More questions?
If you're still totally baffled by Twitter check out my Twitter Crash Course post series. I'll walk you through setting up an account, to connecting with your first followers, understanding your analytics and more!
When it comes to any social network the most important thing to remember is this: everyone else is there to make connections, just like you. So jump right in and start tweeting!

Do you have any questions about Twitter? Tweet at me or ask me in the comments!
---
- by Alyson Shane
Let's face it: even those of us who run our own businesses doing what we love for a living there are days where we feel more lukewarm than red-hot about it. It's normal! Not every day has to result in bubbly feelings, 110% productivity, and heaps of creative new ideas to jot down.
But what do you do when that dip in productivity becomes a lull... and then the norm?
This totally happened to me recently.
Don't get me wrong: my dedication to my clients hadn't faded, but my creative side - the side that feels like it shows when I write, for example - seemed to be taking a backseat to everything else that was going on in my life.
This is totally normal. It's normal for creative people to go through a dip in productivity, or a drought, but when you depend on your creativity to make a living there's a unique sort of pressure to get yourself together and get producing again.
With that in mind I wanted to share some of the steps I've taken to "get my groove back" so to speak, because you never know when a creative dry spell may occur: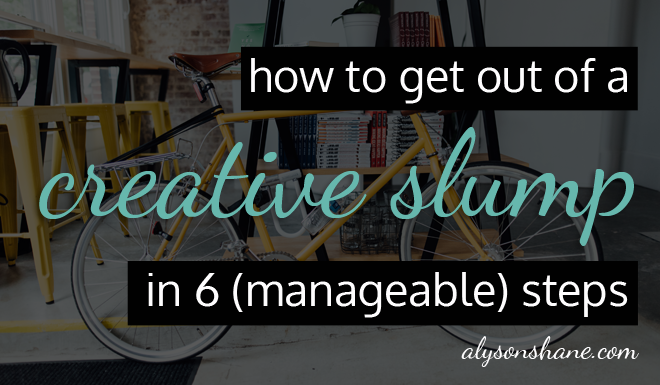 1. Acknowledge there's an issue
This is the worst. When you're in a creative slump it's easy to brush it off and say "I just don't feel like it right now!" or "I'll just get to it later" but you've got to be honest with yourself or you'll never snap out of it. You need to take a long, hard look at your screen (or canvas, or whatever) and admit: I haven't been working as hard at my craft as I usually do, and I need to snap out of it.
It's normal to feel guilty here; just let yourself feel bad for a few minutes... then let it go! The easiest way to make those guilty feelings go away is to do the thing that's making you feel bad, right?
2. Do it even if it sucks
The biggest hurdle to overcoming your creative slump is just sitting down to do the damn thing and not getting overwhelmed to the point where you're too in your head to produce anything of value. So what should you do instead? Sit down and create something of no value.
If you're a writer like me, do some free writing and experiment with different ideas, word combinations, and see what emerges; if you paint, just paint some stuff and let go of the expectation that it has to be your next masterpiece; you get the idea. Getting back into the habit of doing your craft will help you get back to feeling comfortable with it instead of intimidated and anxious.
3. Get active

When my anxiety flares up or I get super busy I'm the worst for letting my trips to the gym fall by the wayside. I try to go 2-3 times a week and I notice a definite slump in my mood, sleep, and creativity levels when I'm not exercising regularly. Recently I "scheduled" GAINZ time into my calendar Monday, Wednesday, and Friday mornings; that way it's just scheduled into my workday.
On days when I can't make it in the morning I try to go in the afternoon, but if all else fails I make a point to go for a walk, ride my bike somewhere, or do yoga at home (I'v also started doing this 10-minute yoga flow video in the afternoons to clear my head - it works, I swear!)
4. Read
Like I said, I've been struggling with a creative slump recently and when I sat down at my laptop today I hadn't intended to write blog post. I've been struggling to write consistently recently, but I still spend a lot of time online reading articles about a wide variety of topics because 1. I'm a voracious reader and 2. I have to in order to stay on top of my game professionally.
In any case, a few days ago John showed me a terrific series of posts on Derek Sivers' blog, one of which is called How to Be Useful to Others. One of the points goes as follows:
3. Share strong opinions.
Strong opinions are very useful to others.
Those who were undecided or ambivalent can just adopt your stance.
But those who disagree can solidify their stance by arguing against yours.
Even if you invent an opinion for the sole sake of argument, boldly sharing a strong opinion is very useful to others.
While it didn't really strike me at the time, those statements have been gnawing at me for a few days and were one of the things that inspired me to sit down and start trying to work past my writer's block. However, you can read whatever inspires you in order to get your spark back: novels, autobiographies of people you admire, or even some articles on Hacker News - whatever leaves you feeling inspred is stuff you should actively be seeking out and reading (or re-reading).
5. Write it out
Sometimes when I find myself struggling to put my thoughts to paper I do "free writing" session. Free writing is a technique where you literally just write whatever comes to mind without stopping to correct spelling, grammar, or focusing on a specific topic.
After reading the aforementioned Derek Sivers article I started typing... and oddly enough the bare bones for this post started to emerge. I wrote about feeling anxious about not writing as much, and as the words appeared on my screen I realized that I was stuck in a cycle of guilt over not creating which was actually stopping me from doing it.
I find this technique is especially helpful before I start writing something a bit more technical (like one of these blog posts) because it really clears out whatever's floating around in your head. Often whenever I find that I'm stuck on an idea or problem a little free writing clears out that mental clutter in no time!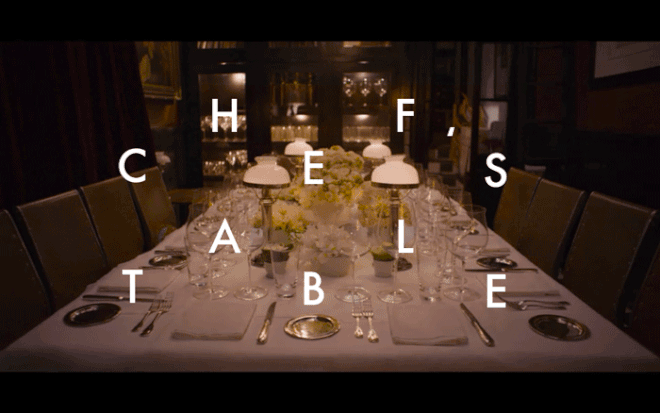 6. Watch & be inspired
I don't usually work with the TV on, but sometimes when I need a little creative background noise (like right now) I'll pop the TV on in the background and half-watch while I work on something. I find that it's best to put on something a bit soothing or slower-paced because watching stuff like action movies can be distracting (hint: don't try to focus on your craft while watching Deadpool).

One of my favourite shows is Chef's Table (it's available on Netflix - go binge-watch it when you're done reading this post!) because not only is it beautifully framed and shot, it also interviews highly creative people who have completely dedicated themselves to their craft and it's pretty impossible to not feel inspired while watching it.
Do you have any tips for getting that creative spark back? Tweet at me or tell me in the comments!
---