Tagged: Business
- by Alyson Shane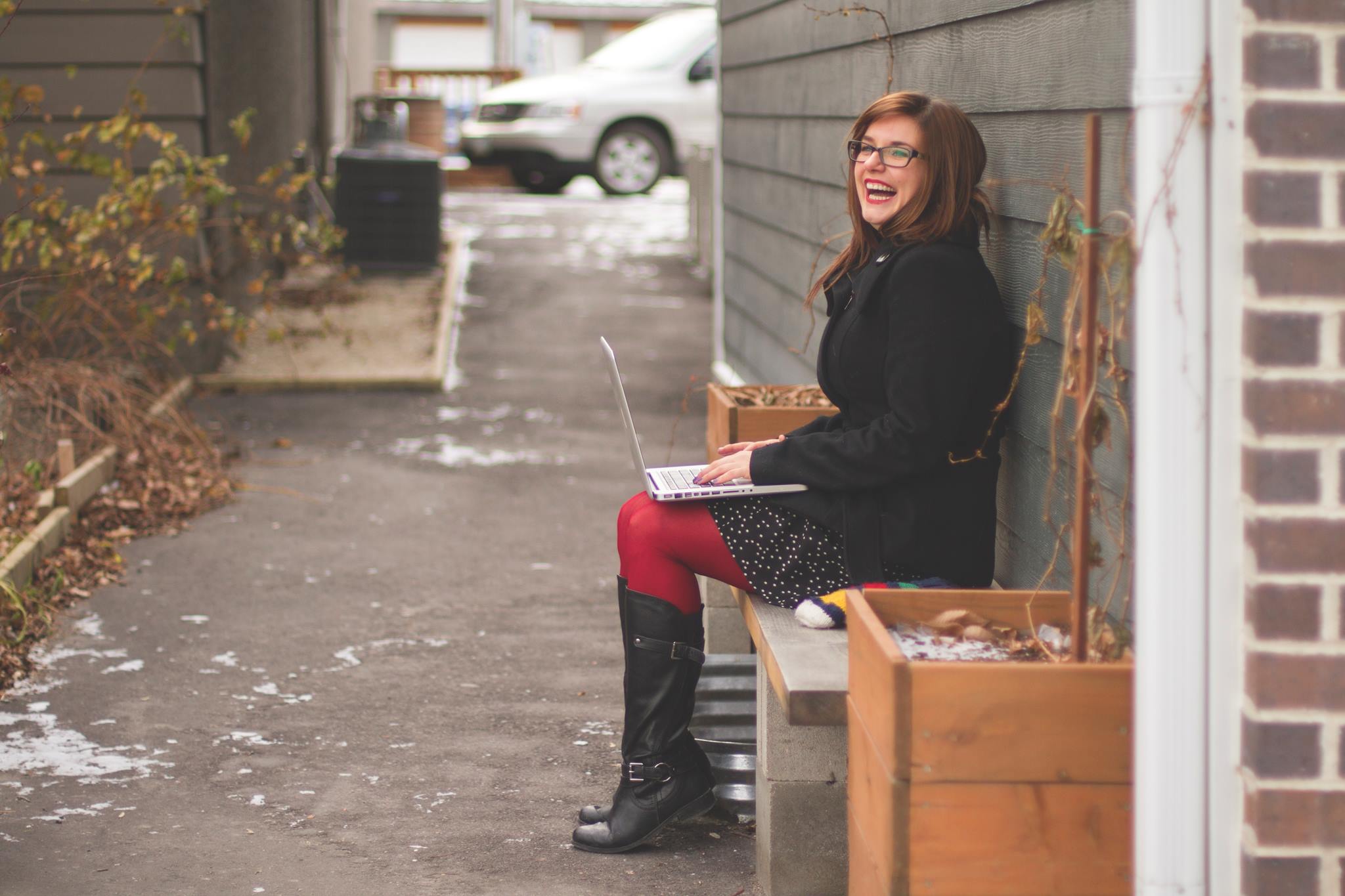 (Right around the time I started freelancing, in 2014. Photo via Rachael Hosein.)

I've been thinking a lot about values recently.
Earlier this week, I got an email stating that Starling Social was awarded the title of "Best Boutique Social Media Marketing Agency in Winnipeg" by the Canadian Business Awards, and it's been making me reflect on what that means to me. Not just in the quality of the services we offer, but about my business in general and the kind of boss I strive to be.

I didn't want to become a businessperson. Hell, even after I started freelancing full-time I was very resistant to the idea of running an agency. I'd worked for a few agencies, both big and boutique, and every experience I had left me with a sour taste in my mouth in one way or another.
I worked at a big agency right out of university. I was over the moon about it even though I struggled in my role.

(Anyone who knows me knows how much I rely on process + documentation, and this job had none of that structure.)
Despite this, I was happy to come in at 7 AM, an hour and a half before my day started, just to stay on top of everything we had going on.
One morning the President of the company walked by and noticed me working away by myself. We started talking and he said he'd noticed me coming in early and he was impressed with my work ethic. We talked about my future in the company, and I asked if he would mentor me and he said yes.
The next week I was fired. I don't even know why — when I asked, one of the people in the meeting said I'd "made a mistake that cost the company $1000" but when I asked what it was, he said he couldn't remember. I'd been there for over a year and they let me go without providing any documented or legitimate reasons.
(Told you there was no documentation there.)

Losing my job was devastating, but what felt worse was knowing that there was such a huge disconnect within that company that the President of the company saw me one way, and middle management saw me in a completely different way.

After that I started freelancing for a small, boutique agency. I loved that job, even more than the agency job because I got my first taste of remote work and having the flexibility to "work from anywhere". The owner seemed like a cool, interesting person and even though the pay was garbage, and ad-hoc, I trusted that they had my best interests at heart as a member of their team.
Then one day I logged into a client's Twitter account and noticed that there were a bunch of posts and replies that I hadn't written. I followed up with my boss, and here's what he said back:
;)
That wink turned out to mean that he'd hired someone new to manage the account and gave them the go-ahead to start without notifying me. When I asked for payment for the time I'd worked, I was told that the last few week's worth of work I'd done wouldn't be compensated.
I was told "I'll give you $60, which should be enough to buy a few 12-packs of beer" and shown the proverbial door.

A few years later as my freelancing business was starting to grow, the owner of a local agency called me up and asked if I wanted to join the team at a management level. It sounded promising, but I took issue with how the workload (and budget) were divvied up:
Essentially, there were only so many paid hours available per project and since everyone was a freelancer they were all competing for the same narrow pool of hours/money. I'd be coming in at a senior level, which meant I'd be getting a guaranteed retainer that would be taken from the pool of money otherwise allocated to the team actually doing the work.
When I brought this up, the owner said "the girls will figure it out, don't worry about it"
(did I mention this was an agency run by one guy who seemed only to hire pretty, skinny women? Ick.)
Needless to say, I didn't take the job. I wasn't comfortable being complicit in screwing over these other women and working with someone who cared so little about the people he employed.

By this time I was already working for myself and starting to scale up a team to help me manage my workload. I know I wasn't great at managing people at first, but the experiences I'd had showed me a lot of what not to do and I was able to start being the kind of boss I'd always wanted to have.
I got to become someone who goes to bat for my team and puts them first. I fired our first "big client" out of NYC and lost us 1/3 of our monthly revenue because he was being abusive to my copywriter. That was a blow, but I'd do it all over again and probably sooner if given the chance.
(Nobody messes with my team.)

I got to become someone who put effort into supporting the people who work for me. I remember how lost I felt at the big agency, so I obsessively document every step of everything we do; internally, and for our clients. I make myself available for support, clarity, and advice, but my team can work confidently on their own because they have a documented framework that helps them be better at what they do.
(Protip: giving people a framework for success is how you guarantee a high degree of quality and attention to detail.)

I got to become someone who leads with their values. I'm honest with my team, whether it's good or bad feedback, because I remember what it felt like to have the rug pulled out from under me when I thought everything was going fine.
(Trust in your people and they will trust you, in kind.)
I'm not perfect — hell, nobody is — but the reason my company does such good work is because I'm value-driven, and leading with my values has attracted people who share those same beliefs. We believe in going above and beyond for our clients, in being data-driven and process-focused, and most of all we believe in each other and in our collective ability to raise the bar on what a digital marketing agency can be.
Every day I feel lucky as hell to run this business and to work with such amazing people.
This award recognizes my agency, but I want to end this (somewhat rambly, stream-of-consciousness) post by saying to my team:

I see you. I see your hard work, your dedication, and your passion, and I feel privileged to work with you. I've become a better person for it, and I appreciate the opportunity to build a company that's built such a strong reputation for creative, high-quality work with you.

Thank you, from the bottom of my heart.

---