Tagged: Small Business
- by Alyson Shane
One of the scariest and most challenging things about going from having an office job to running your own business is that you essentially go from having one boss, to having lots of mini-bosses. This means more deadlines, more phone calls and emails, more meetings... you name it, there's more of it. This also means that instead of one boss to keep happy, you now have three, or six, or sixteen, or sixty-six bosses to manage.
I'll be honest with you: if you run a client-facing business then there is a 100% guarantee that you will eventually have to deal with a tricky client situation (if you haven't already.) I can say this confidently because people are fickle and miscommunications happen.
So how can you manage your client's expectations? I'm glad you asked: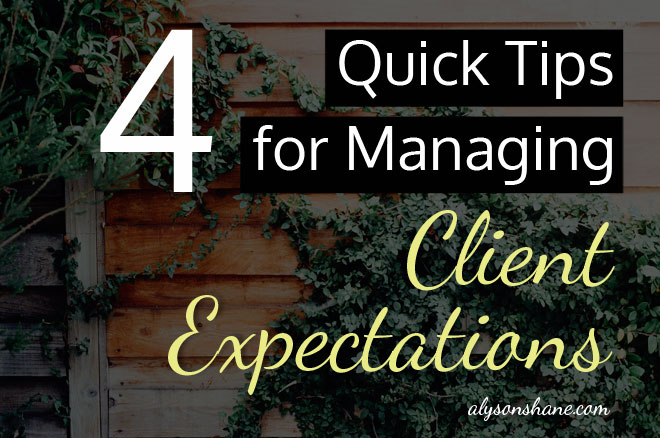 1. Keep your contracts clear
I cannot stress this enough. Don't just blindly sign, or skim over, an agreement between yourself and a new client. Contracts help keep you safe and can be instrumental to resolving disputes, clarifying issues, and other really important stuff.
In my experience I find that it's easiest to provide my clients with a contract for them to review, since I know the deliverable specifics that I need to include. It also means that I get to set the tone moving forward, and it's up to the client to make any revisions to my proposed contract, which is easier for me.
Thoroughly read through each and every client agreement and make sure that it clearly identifies the following:
Your deliverables (monthly, per-project, or otherwise)
Client deliverables (eg: are you waiting on information each month to create a newsletter?)
Deliverable specifics
Deliverable timelines, if necessary
Payment schedules (eg: will you be paid monthly, as specific milestones are met, etc)
it's okay to go back and forth on a contract with a client. Remember: this is a negotiation, and it's better to hammer out specifics up-front so that there's no confusion about what your role is, and what you need to do for them so that you're all on the same page.
2. Under-promise and over-deliver
I'm not saying that you shouldn't go above and beyond for your clients, but giving yourself buffer room and quoting longer deadlines than you actually need can be an absolute lifesaver during busy times, or when complications arise with a project you're working on and revisions need to be done.
Not only does buffer room help you stay within a proposed timeline, but if you finish the project earlier than you quoted your clients will be over the moon for you.
3. On-board like a boss
On-boarding is critical to bringing on new clients seamlessly and make them aware of what to expect from you.
One of the things that I do to help manage client expectations is to provide a document that outlines my on-boarding process from start to finish. This document outlines the following:
What they can expect to discuss at our each meeting/phone call
What I need from them (eg: fill out the Brand Audit Worksheet)
What I'll do post-meeting (eg: prepare a quote, send a contract, etc)
Tasks, broken down by:

Daily tasks
Weekly tasks
Monthly tasks
This is an approximation, as each client I work with is slightly different, but it's general enough that they know what to expect from me.
4. Set boundaries and keep them
Even if you work for yourself, keeping regular office hours is an easy way to manage client expectations. Let them know that you're at your desk from 8am - 4pm Monday - Friday (or whatever works for you) so they don't get upset that you didn't reply at 11pm on a Sunday.
I can't stress this enough: if you don't set boundaries your clients will dictate your life. Having regular office hours works for me, and I've been working towards only checking my email twice a day (it's harder than it sounds!) so that I can focus on doing work for my clients instead of spending all day replying to emails.
If you have a client that loves to get in touch after-hours (and some do) then let them know that you'll do your best to address their concern the next chance you have. This obviously doesn't apply to emergency situations, but day-to-day your clients should understand that you have a life outside of your work and should be understanding if you aren't available right that second.
---
Taking the time to set up a system that your clients can understand, and managing their expectations from the start is the easiest and best way to take care them and ensure that you have a positive, productive professional relationship for years to come.
Do you have any systems in place to keep your clients happy? Tell me in the comments!
---