Tagged: Axess Front Wallets
- by Alyson Shane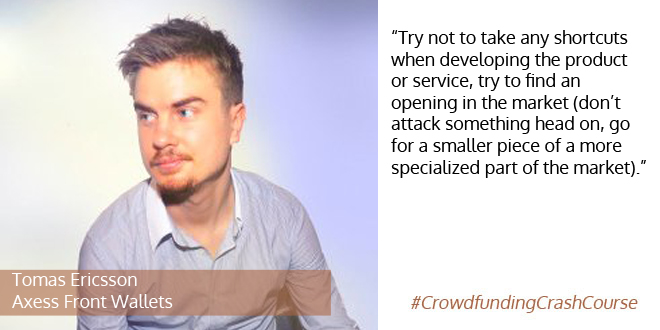 Tomas Ericsson is the founder of Axess Front Wallets, a unique leather wallet designed to fit comfortably in your front pocket.
Can you briefly talk about Axess Front Wallets?
Axess came as a response to the fact that I couldn't find a great front pocket wallet on the market. I started experiencing back pain when sitting on my bulky wallet two summers ago and that sparked the idea that eventually became Axess Front Wallets.
Why did you feel that the crowdfunding model was the best way to promote the product?
To be frank, it was due to the financial realities of the project; the materials are super expensive with a high minimum order quantity so I couldn't go ahead with Axess without the Kickstarter. Kickstarter is also a great marketing platform with exposure to some 30 million monthly visitors, in addition to giving you those crucial early backers. It's absolutely great, thanks Kickstarter! :)
Why and how did you choose Kickstarter over other crowdfunding options available?
I was actually going to go with Indiegogo when I started planning Axess, but then Kickstarter allowed Swedes to launch projects back in October last year, so it became a no-brainer; the Kickstarter platform, due to its limited allowed countries, and higher bar is a much more powerful crowdfunding platform. There's more trust in a Kickstarter than in the alternatives, and they have much more traffic and paying customers.
How big was your budget before you launched your crowdfunding campaign?
I have spent quite a lot developing my product, but the marketing budget is just around $1,000 usd.
How far along was your project before you felt ready to launch a crowdfunding campaign? In hindsight, would you have preferred to be farther along, or to have crowdfunded earlier?
I was very far along, I had developed 18 unique models, and I had several great blog mentions and over 400 early subscribers on my landing page. I think I launched in just the right moment.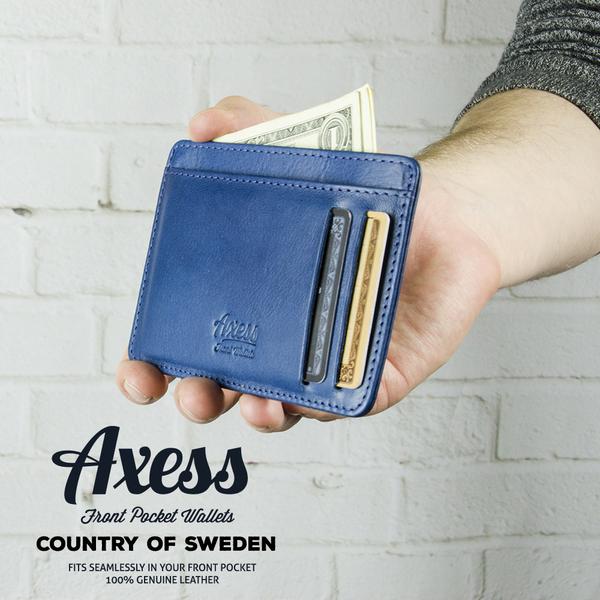 Can you explain how you prepared for and managed your campaign?
I had a landing page which I promoted on Reddit and then later on via getting featured in big fashion blogs, and I gathered 400+ emails in a couple of months. I created Facebook, Twitter and Instagram accounts and let everybody I knew know that something was stirring north of the wall!
What tools did you use to market your campaign? Do you feel like you did so successfully, and if not, what could you have done differently?
I used Unbounce to build a landing page which works really well (albeit being a bit pricy). I got help from a consultant from P&G I met accidentally on Reddit /r/advancedentrepeneur who actually built the landing page for free. For my Reddit promos I used an Imgur account, that's a must. My biggest mistake was to not include social sharing buttons anywhere on my landing page
In retrospect what were your best assets for running this successful campaign? On the other hand, what would you do differently?
My own promotions on reddit and via email to blogs was the key, just straight forward emails to people, my own simple promotions were the biggest asset, (as well as the P&G consultant who built my landing page)
What was your biggest challenge during your campaign?
Taking all the product photos and making all the GIF-animations without breaking my back. (Gin and the Joe Rogan podcasts helps a lot during long photo days in the home studio),
What's the most valuable advice you could share with aspiring crowdfunders?
Try not to take any shortcuts when developing the product or service, try to find an opening in the market (don't attack something head on, go for a smaller piece of a more specialized part of the market). Read business literature, I recommend all of Al Ries books and Jim Collins books, those really put me in the right direction.
This post is part of the #CrowdfundingCrashCourse series. You can find the entire series of interviews and summary posts here.

---