Tagged: CrowdfundingCrashCourse
- by Alyson Shane
Welcome back to the third instalment of the Crowdfunding Crash Course series!
This series of summary posts is designed to go over the lessons learned through more than a dozen interviews with crowdfunders during the course of this project, all with a little bit of insight from myself (of course.)
This instalment will focus on a few things to do after your campaign ends, so let's begin!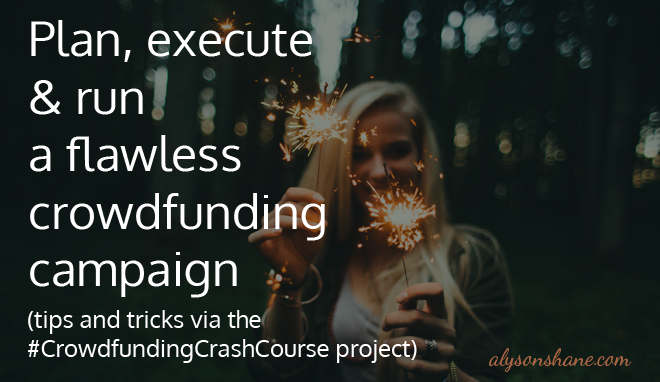 Thank Your Backers - No Matter What the Outcome
If your campaign succeeded, congratulations! You kicked some ass, took names, and raised your funding goal. At this point it's crucial to reach out to all of your backers at every level and thank them for contributing to your project and supporting you in your endeavours.
However, if your project was unsuccessful reach out anyway. Be honest with your backers. If you used Indiegogo or a service which allows you to keep the funds you raised, let them know how you plan to spend the money. If you used a service like Kickstarter and you know they'll be getting a refund, reach out and thank them sincerely. If you can, let them know what your next steps are and how they can continue to follow and support your project beyond the campaign.

Remove a Failed Kickstarter Campaign Before It Ends
If you're using Kickstarter and you know a few days before your campaign end date that you're not going to meet your funding goals, shutter your campaign and regroup before it ends. Otherwise you'll be left with a dead, unfinished campaign that will sit on Kickstarter indefinitely.
This was one of the things that Meghan Athavale mentioned in her interview. She said that initially she tried to raise funds using Kickstarter, but didn't plan enough and unfortunately the first time around her team didn't meet their funding goals.
However, what she didn't realize was that she couldn't remove her failed campaign after it ended, which means that when she re-launched an Indiegogo campaign, even though she was significantly more prepared and met her funding goals this time, she still had an old, failed ghost of a campaign out in the ether of the internet. If you think that this is something that could cause issues for you in the future, cut your losses and end your campaign while you still have the chance.
Map It Out!
The overarching theme of this project seems to be plan as much as humanly possible (have you noticed?)
Do-to lists, checklists, all those tools come in handy when planning a campaign of any sort, but the old classic tool is still one of the best: a calendar with all of your important dates, milestones, and reminders plugged into it.
If you're a bit old school like me you might like to physically write things down when you plan, but if you'd like to keep things digital (way easier when working with a team) Indiegogo has a fabulous calendar tool which you can use to plan your campaign well in advance and make sure you don't miss any important dates or milestones.
It's also pretty helpful if you're new to this whole experience and are unsure of when you should be planning each step. Personally I think the timelines are a bit aggressive -I'd give myself a few months to adequately plan, instead of just a few weeks- but that's entirely up to you and how prepared you are!
Learn the Tools of the Trade
This factors into what we talked about in the 2nd recap post, where we discussed the importance of having a game plan to promote your campaign and manage it before you start. Doing your research into the best platforms and tools to help you craft, create, and distribute your message to the masses can make or break your campaign.
Below are a few great resources to get you started:
Video Creation & Editing: iMovie or Stupeflix
Video Hosting: Vimeo or YouTube
Landing Pages: Unbounce
Social Media Management: Hootsuite, Buffer, Crowdbooster, SocialFlow, Sprout Social
Link Shortening: Bit.ly, Snip.ly
Want even more?
I'm thrilled to announce that I'm in the process of putting together The Crowdfunding Crash Course eBook!
As I was putting together this post I found myself having to go back through posts and interviews I'd written, and sift through them to find the information I wanted. It was clunky, confusing at times, and not at all the kind of succinct, awesome experience that I want to provide for all of you.
So, with a very limited knowledge of iBooks Author, I set out on a quest to put together the most complete version of the Crowdfunding Crash Course project to date, all compiled in a handy little book for you to reference and use whenever you need!
The eBook is full of tips, tricks, breakdowns and, of course, the interviews from the Crowdfunding Crash Course Project. In addition to the information already available in post format, I'll be providing a more detailed breakdown and analysis of each campaign, as well as additional insights and advice to prepare for, and manage your campaign after it's ended.
The Crowdfunding Crash Course eBook will be available for free to all of my newsletter subscribers, make sure you sign up to get your hot little hands on one of the first copies!
I'm so excited to be sharing this news with you, and can't wait to get The Crowdfunding Crash Course eBook out there into the big, wide world!
xox
Alyson
---