Yes we are eating popcorn in bed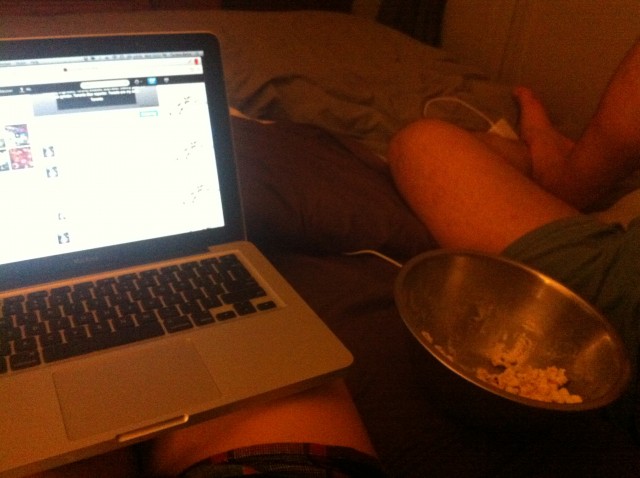 One of the great things about being an adult is getting to do what you want.
What I want at the end of most nights is to sit around in my underpants with the laptop in bed with my significant other and maybe the cats and usually tea and sometimes a snack.
Tonight for instance we are eating popcorn with sour cream n onion seasoning.
Which is wonderful for me because I was working on university stuff all night and forgot to have dinner and didn't realize till we were halfway through our evening when my tummy was all
wtf put food in me you dummy
and I was like
shit. I'd better get on that.
So here I am writing this drinking tea and eating popcorn with my significant other which is crazy to me because a few years ago I was dating someone who picked a fight with me over this very thing.
I've only ever really seriously cohabited with one person and pretty early on after moving in together I was reading a book having a snack in bed and he flipped out.
I was all
It's not big deal. Just some cheese n crackers and I'm holding the plate.
But he flipped the heck out and we had this big crazy fight and it boggled my mind because who doesn't have a lazy snack in their own bed once and a while?
The reason I thought of that was because as we were both reaching for more popcorn my hand hit Tyrone's and some popcorn got on the bed and instead of flipping out we cleaned it like it was no biggie
which it wasn't.
So now I'm sitting here blogging about it and he's reading and we're about to go turn the lights down
and I'm thinking about how funny it is that people can be so different
and how I really want some cheese n crackers.
---