Tagged: Adam Brooks
- by Alyson Shane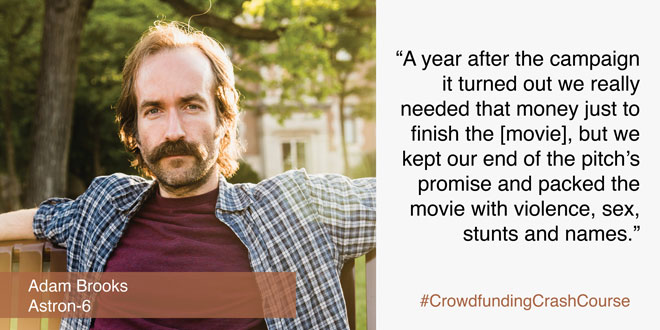 Adam Brooks is an actor, writer and founding member of Astron-6, a Winnipeg-based film production company. They used Indiegogo to crowdfund their film The Editor.
Can you briefly describe The Editor?
Yep. It's an absurdist giallo movie about a film editor suspected of murdering a number of his co-workers in a film studio in the late 1970s.
Why did you feel that the crowdfunding model was the best way to promote the film?
Because it required the least investment for the highest gain - nothing to lose.
Why and how did you choose Indiegogo over other crowdfunding options available?
I didn't spend much time researching it but they seemed to keep a smaller chunk for themselves than their competition.
How big was your budget before you launched your crowdfunding campaign?
$120k.
How far along was your project before you felt ready to launch a crowdfunding campaign? In hindsight, would you have preferred to be farther along, or to have crowdfunded earlier?
It's a bit of a long and boring story - we had started to shoot 'The Editor' as a fake trailer on SLR and eventually decided we might as well try to make an actual feature out of it. We wrote a script and applied for telefilm's microbudget program.
Can you explain how you prepared for and managed your campaign?
We brainstormed a list of rewards minutes before taping the pitch video and then uploaded it to indiegogo and posted it all over our social media.
What tools did you use to market your campaign? Do you feel like you did so successfully, and if not, what could you have done differently?
We've built a small audience already, so all the blogs that had previously taken an interest in our material were happy to post the indiegogo without us asking.
I think it was successful - we exceeded our goal.
In retrospect what were your best assets for running this successful campaign? On the other hand, what would you do differently?
I think you need a cool project, and cool rewards…. I really wish I'd budgeted all the postage I've had to spend on the rewards though or budgeted to pay somebody to do it for me.
What was your biggest challenge during your campaign?
I don't know. We already had $120k. Our campaign was just trying to get us an additional $16k to punch up what we already had. A year after the campaign it turned out we really needed that money just to finish the thing, but we kept our end of the pitch's promise and packed the movie with violence, sex, stunts and names.
What's the most valuable advice you could share with aspiring crowdfunders?
Make a comic with the Soskas.
This post is part of the #CrowdfundingCrashCourse series. You can find the entire series of interviews and summary posts here.
---