Tagged: Digital Marketing
- by Alyson Shane
Before the internet was as embedded in our everyday lives as it is now, marketing took a very "one size fits all" approach compared to today's standards. Billboards, print ads, and commercials were certainly still created with specific audiences in mind and placed accordingly (eg: ads for lipstick in Cosmopolitan magazines), but they didn't provide a lot of information to the consumer.
In today's digital age, marketers have to do a whole lot more in order to stand out from the crowd, and these days consumers take their time to research, cross-reference, and familiarize themselves with a brand and its products or services. Putting white space on a page to stand out from the crowd just won't cut it anymore.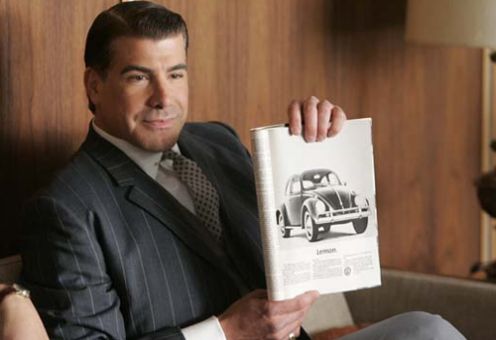 What's risen up to replace traditional marketing is content marketing. Content marketing differentiates itself from the traditional variety by supplementing promotional content (ads) with useful, informational, and entertaining content (blog posts, memes, lists, etc).

Content marketing helps businesses build familiarity with their target audiences, and by sharing information that doesn't directly relate to themselves over time (and with some luck) a trusting relationship will turn that audience member into a customer.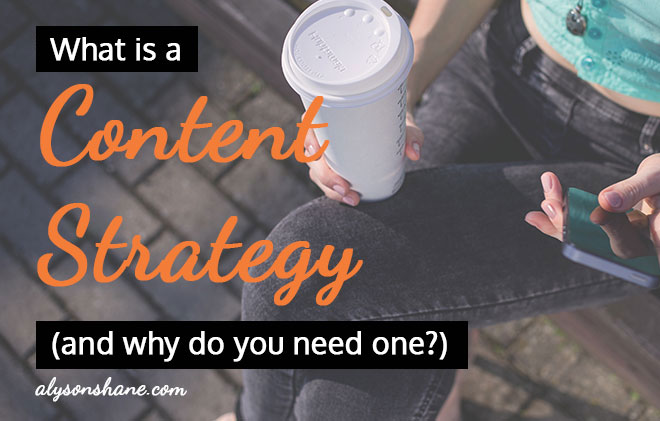 Content marketing strategies are essential for any sort of meaningful long-term success online. They help determine how, why, and who you can reach using your content, and act as a "game plan" to direct those efforts and measure results.

Without a content marketing strategy you (or your employees) are simply throwing information against the wall and hoping that it sticks. While there is certainly a level of experimentation which can (and should!) happen within the contexts of a long-term content strategy, your day-to-day actions should be determined by a set of values and goals set by your content strategy.
What should you include in your content marketing strategy?
It's all well and good for me to say "you need this" but I'm not doing my job very well if I can't break down exactly what you need, right? Below are some of the essentials that I include in every content marketing strategy (and you should, too):
Goals & objectives
The first thing you need to determine is what is your content marketing strategy meant to achieve. Some common examples include:
Increasing website traffic
Growing social media profiles (Likes, Followers, etc)
Increasing newsletter signups
Downloads of a specific product, PDF, etc
Who your target audience is
The first thing to do here is create a buyer profile which will help you understand what motivates your customers, and what their "pain points" are that your product or service can help them solve. You can read more about creating effective buyer profiles here.
Touch points
Modern customers often encounter a business in a variety of places: searching, paid digital advertising, customer reviews, and social media, just to name a few.
Pay attention to customers are finding you (your website analytics and keyword analysis are very helpful here) and define which channels and social networks you will use to help guide your customers, and what your goals for each channel are going to be.
Your messaging
Content marketing should tell your brand's story; that is, what makes your business, service and/or products different, and why your customers should care.
Gone are the days when you can be a faceless monolith and still create real, meaningful connections with your audience.
Some things to keep in mind are:
What sets you apart from the competition?
What makes your business unique?
How can your product/service help your customers?
What kind of tone will you use (formal or casual)?
The kind of content you want to share
Before you start sharing memes left and right, take a moment to think about how your audience will react to what you're sharing, and how they will work to help you achieve your objectives.
Your buyer profile should really come into play in this area, because while there are lots of blog posts, infographics, videos, and much more available online, if you're sharing it with audience members who don't engage with that kind of content, then you may be doing more than just boring them: you may start alienating them.
Don't worry about limiting yourself (you can share blog posts, news articles, and infographics, for example); it's more about identifying which kinds of content work best together, not focusing on one specific type.

Pick your content topics
Once you've figured out the kinds of content you want to share, use your buyer profiles to figure out how the information contained within those forms of content can help solve your customer's pain points.
For example, if your business sells personal protective equipment for construction workers and labourers (helmets, vests, steel-toe boots, etc), then sharing articles relating to worker safety, staying safe on the job, and updates about your industry are all good content topics to start with.
How to measure success
No content marketing strategy would be complete without determining how you will measure success, and your Goals & Objectives section of your plan should help direct these efforts.
Whether you classify success as a monthly increase in social followers, 500 newsletter subscribers, or 100 downloads of your latest white paper, make sure to track these stats over time to see how well you're doing.
Do you have any questions about content marketing strategies? Did I miss anything in this post? Let me know in the comments or drop me a line.
---
- by Alyson Shane
A few weeks ago, while travelling around Central America, I received a comment on my Instagram which I wanted to take the chance to respond to here on the blog. Here's the question:
How did you get started doing social media marketing? I am interested in this but have no current knowledge of marketing.
-Brittany T.
Instagram isn't the best way to answer a questions like this in an in-depth way and I've been chomping at the bit to get home and write a longer, more detailed response because I wish someone had told me all of this stuff back when I was trying to figure out what I want to do.
Not only because it's great to hear what other people did to get to where they are in life, but also because being a digital marketer isn't really something that anyone worth their salt can just start doing successfully. That's because there's a lot of ongoing effort that goes into crafting a personal brand that people (freelance clients or future employers) will feel comfortable handing their social profiles over to.
So without further ado, here we go:
Build your personal brand

Your "personal brand" is exactly what it sounds like: it's the image of yourself that you project out into the world through your words, your actions, and your behaviour.
What's beautiful about the internet is that you can craft your personal brand to reflect whatever parts of yourself you'd like to accentuate.
This takes time. People aren't going to start recognizing your name overnight, and
The more time you spend working on and crafting your personal brand, the stronger your image will be and the sooner opportunities will start coming your way based on people's perceptions of you. Your audience will see you as a sincere, intelligent person and will be breaking down the door to work with you. I wrote more about personal branding here.
Build a badass website
I've said this before, but your website should be the centre of everything you do online; all of your social media feeds should attempt to drive traffic back to your website, and it should clearly and succinctly explain to people who you are, what you do, and what you're about.
Make your website as easy to navigate as possible. Try to aim for a slick, clean layout without a lot of clutter, and try to use bright, eye-catching photos. Personally I prefer websites with a white background and dark font, because it's easier to read and looks cleaner, but do what works for you.
Start blogging
I've been blogging since 2003, and the latest iteration of my blog (what you're reading right now) has been active since 2009. In that time I've transitioned from being a "lifestyle blogger" to someone who, largely, writes about their profession, but what matters is that I've been publishing content online for a long time.
Regardless of the topic, maintaining a blog for an extended period of time looks great professionally. Here's why:
It's the best way for you to showcase who you really are in more than 140 characters.
It shows that you can commit to an ongoing project (blogging).
It demonstrates your writing skills.
Blogging has helped me establish myself as someone who understands their industry, is a strong writer, and has allowed me to expand my audience. My blog has allowed me to speak at MBlog, get published in the Winnipeg Free Press, and even to get featured on ShawTV as one of Winnipeg's Hottest Bloggers. When I was applying for jobs all of my employers checked out my blog, and it's the first place most of my clients find me nowadays.
But... what if you hate writing?
I get asked this question a lot, and to be honest I never really know how to respond to it. In my view, people who are interested in social media enough that they want to do it professionally should have a deep interest in how we communicate online and how we use persuasive language (aka rhetoric).
Because let's be serious: someone in my position spends most of their days writing in one form or another. Maybe it's website copy, maybe it's scheduling tweets, maybe it's writing a blog post or a newsletter, but either way all day every day, we're hustlin' writing.
If you don't like writing and understanding the nitty-gritty of how we communicate with each other... maybe this isn't the profession for you.
Having a social media presence
I can't stress this one enough.
If you are genuinely serious about pursuing a career as a social media manager or digital marketer, you need to jump into social media feet-first and do your best to maintain an active presence on platforms which will help you get a bit more well-known. I prefer Twitter for this purpose, personally, but if you don't have at least a Facebook profile, Twitter presence, and Instagram account, it's unlikely that prospective clients will take you seriously.
This is because how well you manage your own accounts gives people an insight into the kind of person that you are (are you nice online, for example), demonstrates that you know your way around at least a few of the major communication platforms, and shoes that you're relevant because you update them all regularly.
Oh, right: update them all regularly. This is key. Nobody is going to take someone who sells their services managing and understanding social media platforms seriously if their last tweet was from 2014.
Not just that, but social media is the easiest way to share that blog content that we talked about earlier. Cross-promoting yourself across a variety of social networks is one of the easiest ways to get noticed by a potential employer or client.
Show up to local Meetups
This expands a bit on the earlier point about building your personal brand: while connecting online is great, it's important to turn those digital connections into real, face-to-face ones, and the easiest way to do that is to show up to things.
If you're in Winnipeg, there are plenty of opportunities to connect and get known. Some of them are:
Not in Winnipeg? Check out Meetup.com for local social media-related gatherings near you!
Let your passions drive you

I believe that being passionate about what you do is the single most important asset in this equation.
While I make my living as a digital marketer, I actually identify as a writer. That's it. I love to write, and am obsessed by rhetoric (aka persuasive language) and the ever-evolving nature of social media, so applying what I love to do (writing) to something that interests me (communication/social media) just made sense.
If you aren't passionate about what you do, then you won't take the time to explore it and understand it, and part of being an effective digital marketer is keeping up with the ever-changing trends in your industry. Not just that, but if the idea of developing marketing plans for Instagram, or spending your days monitoring @ mentions on Twitter doesn't make your heart go pitter-pat, then you may want to rethink your career choice.
A lot of this comes down to perspective, too: like I said, I identify as a writer above all else, and managing social media profiles, developing copy for marketing strategies, and keeping up-to-date on how to effectively communicate on each platform (to hashtag, or not to hashtag? That is the question!) is just another way to sharpen my writer's chops.
So, figure out what you love the most about social media and make that your focus.
Hopefully that helps, Brittany! Good luck to you on your career journey!
Do you have any questions for me about being a business owner, digital marketing, social media, or anything I mentioned in this post? Ask me in the comments or drop me a line - I'm always happy to hear from you!
---
- by Alyson Shane
We live in tumultuous digital times, my friends. New social networks seem to be appearing every day, and if you're trying to promote your business online, it's easy to feel like there are too many options to choose from.
Most clients I talk to when we first meet have an ad-hoc strategy when it comes to promoting themselves online; they know of a few social networks and have accounts set up, but in many cases their messaging is muddled, unclear, and in many instances they are trying to reach an audience who simply aren't there.
That's why developing a digital marketing strategy is so important. Having a strategy which has taken into consideration both your brand's needs and those of your audience and customers can make or break your marketing efforts, so today let's go over some steps to build a badass digital marketing strategy to help you stand out online: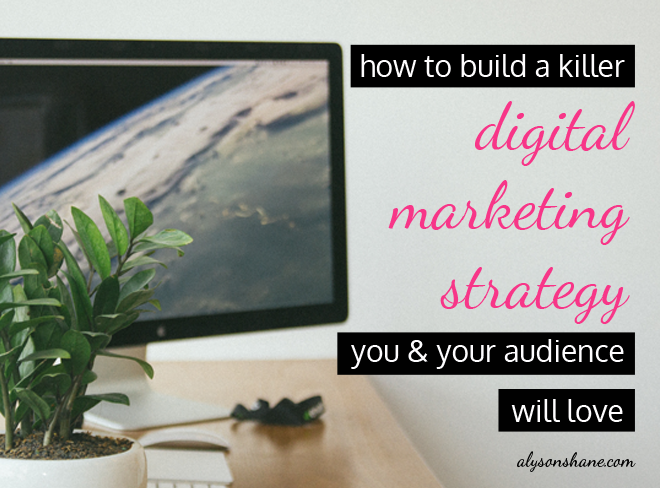 Determine your goals
The first thing I ask a prospective client is: what do you want your digital marketing strategy to accomplish? Many people have never thought about this before, and if you haven't until just now, that's okay! But now is the time to start thinking about what all the time and effort is going to do for you.
When I was in university, I took a few business courses where I learned about two crucial acronyms for planning that I still use every day: SWOT and SMART.
SWOT stands for Strengths, Weaknesses, Opportunities, and Threats, and is helpful when planning a project or new business venture so you can assess (you guessed it) your strengths and shortcomings before moving forward.
SMART stands for Specific, Measurable, Attainable, Realistic, and Timely. When planning out your goals for your digital marketing strategy, make sure that they all meet this set of criteria. What do you want to accomplish and how will you measure it? What are realistic and attainable goals to aim for?
Understanding your SWOT and SMART goals will help direct your time and energy, so you don't waste time floundering around, trying this or that, instead of having a focused and easy-to-understand set of goals.
Ask "Why me?"
What I mean by this is: ask yourself why your business exists.
What does your organization (or your small business) do that makes you worth working with? Are you a Twitter whiz? Do you write fantastic, eye-catching copy? Are your presentation and PowerPoint (or Keynote) skills second-to-none? How do your skills and your personality set your business apart from your competition?
This may take some digging and soul-searching, and that's okay! Many of us (myself included) have had to take a hard, critical look at our business and suss out what makes us unique, and how we can convey that to our audience and potential customers.
Tell your story
Crafting a narrative about your brand is one of the most important things you can do online. Your story -what makes you unique, different, and perfectly posed to solve your customer's problems - is what sets you apart from your competition.
Humans are natural storytellers, and people will be attracted to and remember a brand whose story made them feel something. Positive feelings also lead to feelings of trust, comfort, and help shape your brand's identity not just as a company, but as somewhere where real, dedicated people work and put their energy into.
(Want more info on brand storytelling? Check out my post Marketing Your Brand Through Storytelling)
Build your buyer personas
A buyer persona is exactly what it sounds like: a fake profile of the kinds of people you want to attract and engage with online.
A complete persona should have details about the person's background (I like to name my buyers, too), what they do for a living, what their values and beliefs are, what they like and don't like, and what motivates their decision-making process.
Developing buyer personas is one of the most important steps you can take as part of your digital marketing strategy because it gives you a deeper insight into what your ideal customers are looking for online. This information will inform the kind of things you say, what you share, and the people you connect with online.
Identify where your audience will be
This is critical to implementing a successful digital strategy because if you don't take the time to figure out where your target audience is hanging out online, then you'll never be able to reach them and show them how awesome you are.
That's why doing a buyer persona is so important: it doesn't just inform what to say and how to say it, but also where you should be saying it for maximum impact. For example, if your target audience are Etsy obsessed DIYers who love Pinterest, spending all your time marketing on LinkedIn, which is a business networking site, isn't going to help you find your audience anytime soon.
Take time to think about where your ideal customers will be spending their time thinking about the things that interest them online, and how you can make yourself stand out so they notice you.
Track your success & pivot when necessary
Social networks change over time, so it's important to keep an eye on how successful your digital strategy is, and to fine-tune as you go along. Paying attention to the statistics of each social media account (and your website, if you're blogging, too) can go a long way towards informing what kind of content is resonating your audience, and which turned out to be rather lackluster.
What's wonderful about digital marketing is that unless you really screw up, your audience will usually forgive and forget about a post that didn't catch their eye, or a tweet that didn't go as viral as you hoped. This means you can experiment with different kinds of images, polls, contests, and more! Just track how successful each one was and try to duplicate the ones that did well.
Ask for help (if you need it)
Developing a robust digital strategy can be challenging and time-consuming, and even when brands and businesses have buyer personas they often can't (or don't want to) spend the time reaching out to them and connecting.
That's totally okay! You are not a machine designed for selling and promoting, and if you feel overwhelmed at the thought of having to run your business and develop and implement a digital marketing strategy, that's normal.
Many people choose to work with business consultants, who can help you determine the right direction for your company and develop a killer digital strategy to go along with it (I recommend Kyla Roma if you're in the market for someone; she's fabulous). There are also people like me who offer content management services to help keep you on track (shameless plug, haha).
There's no shame in asking for help, so if you're feeling baffled or overwhelmed make a point to reach out to someone and get the ball rolling on developing and implementing your shiny, new digital marketing strategy!
Do you have any questions about digital marketing? Do you want to know more about how to implement a killer online strategy? I'd love to know!
---