Tagged: Reviews
- by Alyson Shane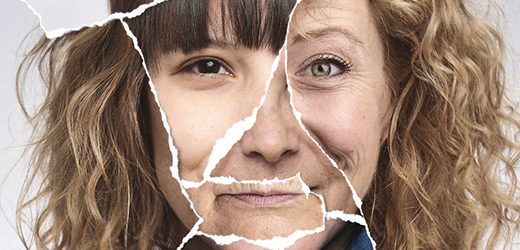 "Happy Place" is playing at the Prairie Theatre Exchange right now and John and I checked it out on opening night last week. I try not to do any research into the shows before we see them so I don't go in with any expectations, and to date it hasn't done me wrong.
"Happy Place" is a play about a group of women who, for one reason of another, all find themselves in an in-patient centre as a result of various types of trauma.

Based on that description you'd probably expect to cry more than you'd laugh, but I don't know if that's quite the case with this play.
The play begins by introducing Samira, a young woman who starts out being withdrawn and quiet around the other patients, and around their doctor, Louise. Over the course of the play we learn that Samira has been sexually abused, at one point through a gut-wrenching monologue that was, honestly, hard to hear.
Other characters include Mildred, the shit-disturber who provides a lot of the comedic relief through her sassy, no-bullshit personality; Rosemary, who is reserved and somewhat condescending; Kathleen, who has also been sexually abused; Nina, who is tightly-wound and whose psyche feels frayed; and Joyce, who spends most of her time being a nosy busybody who one-ups everyone so thoughtlessly that it almost seems like she does so without thinking.
The set was simple: a raised platform with areas off to the side representing the "rooms" the women stayed in. At first it almost felt too simple, but as the play progressed the use of lighting created a surprisingly dynamic and engaging stage setup.
I feel like "Happy Place" is important for several reasons.
The play explores the various ways women can be abused, manipulated, overpowered, and the deep underlying sense of shame and low self-worth that these experiences breed inside of us.
The short scenes and choppy, fragmented way in which the story was told reminded me a lot of what it was like in therapy: short outbursts of extreme emotion that often left you feeling more empty than whole and fulfilled.
There were several group scenes which stood out, including one where Louise asks the women to create a collage of their "happy place" which - I won't go into too much detail here - but this also hit home in a surprisingly profound way as the characters discussed their reactions to the concept of a "happy place".
I cried so hard while watching "Happy Place" that I started to worry about my mascara and eyeliner giving me raccoon eyes.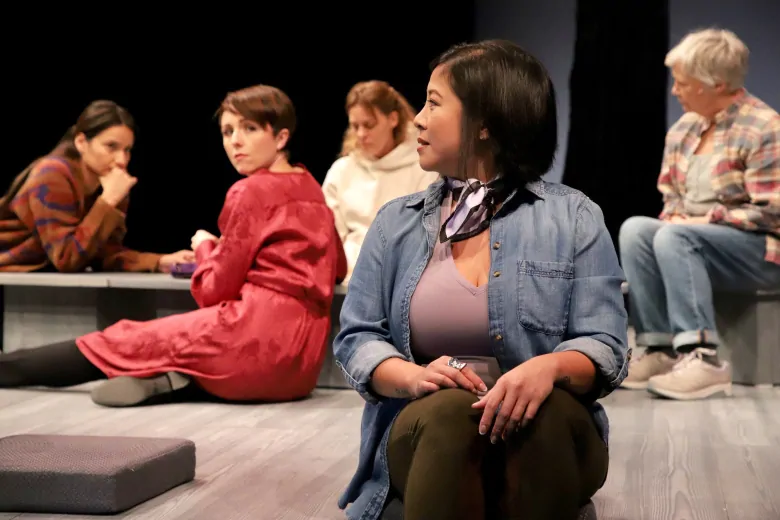 As each of the characters began to process her own trauma, and the role she played in creating or enabling the issue I, and other people in the audience, started to break down.
At one point Joyce, whose constant need to one-up everyone around her had reminded me so much of my mom and my Nan (my mom's mother, ironically also named Joyce) floored me by saying
"I'm not depressed because my husband left me... my husband left me because I'm depressed."
It's not often that a character in a play puts words to your deepest, darkest fear.
I don't think I was quite ready for it. I started crying and had to work to restrain myself from flat-out ugly-crying in the middle of the theatre. I held onto John's hand so tight and saw that he was crying, too.
Most everyone in the theatre was full-on crying by that point, I think.
Which speaks volumes about the play, and its playwright Pamela Mala Sinha. Being able to peel back layers of fear and self-judgment for the things we are ashamed of, or wish we could undo, or forget onstage is a magnificent (if not somewhat off-putting for how personal it felt) feat, and a deeply powerful and moving experience to watch acted out onstage.
"Happy Place" is playing at the PTE until November 25, 2018, and even though I've spent most of this post talking about how sad it was, and how much I cried... that's precisely why you should grab a ticket (or two, it's good to cry with a friend) while it's still playing.
It's not every day that a play touches you as deeply as this one touched me, and based on the sniffling and tissues going around the venue, I doubt I was the only one who felt that way.
**Big thanks to the folks at the Prairie Theatre Exchange for giving me free tickets to see their 2018/2019 season in exchange for these posts. It's a wonderful treat to be able to support and promote Winnipeg's independent theatres.**
---