Tagged: theatre
- by Alyson Shane
If you're like me, or even like a lot of other people out there, then you probably have a somewhat complicated relationship with your parents.

These conflicts and complications happen because dynamics are difficult to navigate; it's hard to be emotionally connected and love someone who may be vastly different from you, or who hurts you, confuses you, or struggles to connect with you emotionally.
As children, it falls on our shoulders to try to understand and unpack our parents:
What decisions and life experiences led them to this place in life?
How did these experiences shape their personalities and parenting style?
What can we do to bridge the gap between their values and beliefs, and those of a new generation?
(I think about these things a lot, in case you haven't noticed.)
Someone else who clearly thinks about these things a lot is Tetsuro Shigematsu, the performer behind the play Empire of the Son, which is currently playing at the Prairie Theatre Exchange.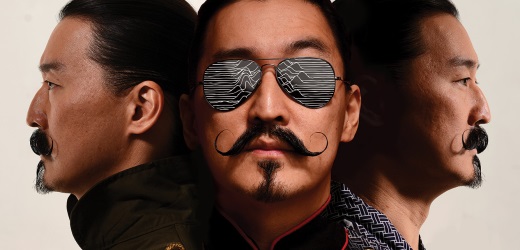 Image via the Prairie Theatre Exchange
Empire of the Son is a one-man show written and performed by Tetsuro Shigematsu (former host of CBC Radio One's The Roundup) which employs a variety of mediums from monologues, to video, recorded audio, to live-action video using miniature sets, and more, to explore the complex relationship between himself and his father, also a CBC broadcaster.
Or, as the poster so aptly put it: Two Generations and the Silence Between Them (how perfect is this description, by the way?)
The play focuses on Shigematsu's emotionally distant father, Akira, and his struggle to reconcile his father's lasting impact through his work as a radio broadcaster for the BBC and CBC, and how emotionally distant and reserved he was with his family.
I'll be honest: I typically have a hard time getting into one-man shows as I tend to find the disconnect when an actor switches between characters to be rather jarring, but there was a distinct physical difference between when Shigematsu was "Tetsuro" and when he was acting as "Akira" that may have turned me into a one-man show convert:
Shigematsu's impressions of his father seemed to take over his whole body; his posture changed, his facial expressions changed, and his inflection and pronunciation were so dramatically different from the jovial person telling the story that it often felt like there was another person onstage, entirely.
At the same time, you could tell that these impressions, and his ability to deliver them so effectively, were crafted with the kind of love and intimate knowledge that only very close family members and friends tend to have with one another.
As Shigematsu led us through his father's life we came to understand the contradiction he felt about his father: for someone who broadcasted to the world and regularly talked to people across the globe, he struggled to open up to and connect emotionally with his own children.
It's revealed that though his father was an influential figure and led a storied life which included some astounding moments (having tea with the Queen, being present in the room when Marilyn Monroe serenaded JFK, and - most notably - being in Hiroshima when the atomic bomb was dropped) Shigematsu only began to 'real' conversations with his father when he began interviewing him towards the end of his life.
This contrast hit home, and served as a reminder that, often, the most we know of previous generations is what they choose to share, and unless we take the time to tease it out of them, their stories and experiences may be lost forever.
(As someone who studied oral history in university, I found this fascinating, by the way.)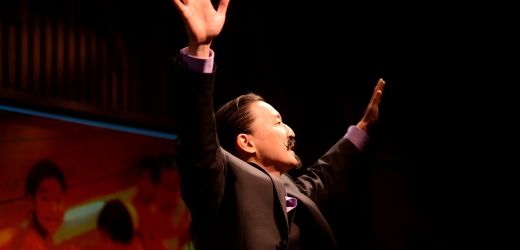 Image via the Prairie Theatre Exchange
This intimate solo performance was enhanced by Shigematsu's larger-than-life stage presence and his interesting use of a camera and miniature props located on a long table onstage. A DSLR camera (I think) was strapped to it, and at times Shigematsu would move casually over to the table, arrange some of the tiny props, and stream the live video camera footage to the screen behind him.
If this sounds strange, it was - but that only enhanced how effective this method of adding an additional visual layer was to the overall story. Personally, I've never seen someone manage to imitate two different people and move around on a miniature skateboard with just their middle ad index fingers, have you?
At the outset of the performance Shigematsu shares that he hasn't cried since he was a child, and shared his hope that performing this story in front of an audience would help him do so.

Personally, I shed enough tears for both Shigematsu and myself.
This poignant, captivating and strikingly funny memoir is one that I highly recommend seeing.
Additionally, we were lucky enough to catch Empire of the Son on the night of the Prairie Theatre Exchange's Leap Series, a new event in partnership with Manitoba Music focusing on out-of-the-box plays and music from local artists. If you're looking for a date night, or an opportunity to dive into the world of independent theatre, make sure to check out their next Leap Series event happening in February (and say hi to me if you do!)
**Big thanks to the folks at the Prairie Theatre Exchange for giving me free tickets to see their 2018/2019 season in exchange for these posts. It's a wonderful treat to be able to support and promote Winnipeg's independent theatres.**
---