Tagged: canada
- by Alyson Shane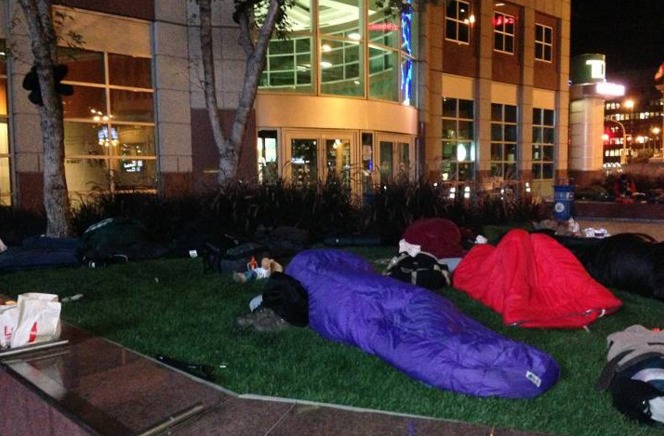 (Image via Global News Winnipeg)
This morning I woke up at 7am in a sleeping bag in a flower bed at Portage and Main.
I spent the night outside as part of The CEO Sleepout, an annual event which aims to raise awareness about Winnipeg's homeless community through fundraising efforts, community outreach, tours, and spending the night outside to gain a deeper understanding of what homelessness is like in our city.
A quick backstory: I'm from a suburb called Riverbend, which is far from our downtown core. I grew up being taught that Aboriginal people -especially the ones experiencing homelessness- were people to be feared and avoided. Since then I've lived in downtown neighbourhoods (Osborne Village, West Broadway and Wolseley, respectively) since my early twenties, but it's taken a very long time to start to start to undo the prejudices and assumptions that I learned around the dinner table.
With that in mind, I expected the CEO Sleepout to be an important event for me, but I didn't fully anticipate how profoundly my evening would affect me, and I'd like to share that with you.

One of the portions of the evening -and, I'd argue, the most important- were the tours through various homeless shelters and rooming facilities where over 500 of Winnipeg's homeless population spend the night.
What I'm about to say is really hard for me to write.
One of the stops on the tours was the Main Street Project, a location which offers emergency shelter and food services, a drug and alcohol detoxification unit, and transitional housing, among other important services. As we passed through the building, I noticed a man standing off in a corner, sweeping a broom and talking to one of the workers.
I recognized this man.
I knew him from all the times he had asked me for money, all the times he got too close to me and made me afraid, and all the times I had deliberately crossed the street away from him because his tall, imposing stature, inability to speak coherently, and dishevelled look frightened me.
For the very first time I saw him as a human being. A real person, instead of a threat.
Typing that, and sharing that statement with all of you is extremely difficult for me to do.
I feel such a deep and profound sense of shame over how I previously felt about him, how I completely disregarded that he has a story, a struggle, and that he's just doing the very best that he can with the limited tools at his disposal.
I had to fight hard to hold back tears as we completed the tour.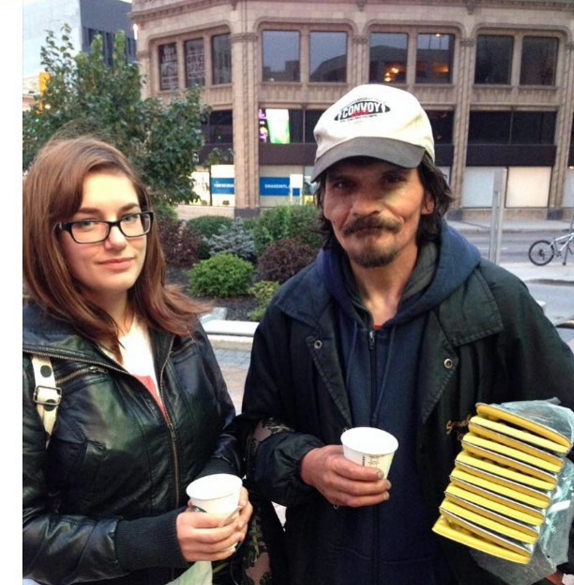 This morning I had the opportunity to talk to Chad (pictured above) who has been homeless for three years. We talked for a while and he told me about how he stopped caring for himself after his wife died, how he's struggled with addiction and low self-worth, and how he's fighting a steep uphill battle to detox and get better. Chad's holding one of the thermal sleeping mats that John and I gave out, and I told him that the next time we see each other on the street, that I'll buy him a coffee and he can tell me about his progress.
He said "I hope I have good news to tell you, but I can't promise anything. There isn't much good news in the homeless community these days."
Chad wasn't the only person experiencing homelessness that I had the opportunity to speak with, but I wanted to share his story, specifically, because it shows how easy is is for us to slip into a downward spiral.
Having the opportunity to connect with people, hear their stories, and learn about their struggles is, in my opinion, where the real value of The CEO Sleepout really lies.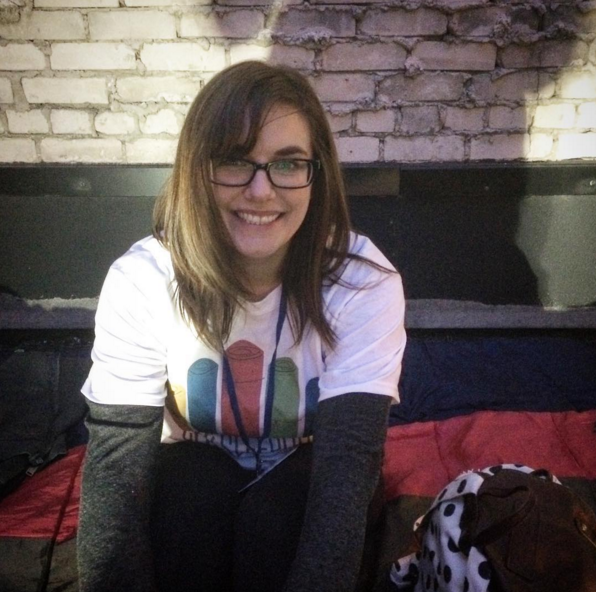 Last night when I posted a the above picture on Instagram someone left the following comment: "Do they have lobster this year? And security to keep away those dreaded homeless. Make them watch your empathy at a safe distance."
That comment has been making me feel sick since last night, because it's indicative of a larger problem within our society. Namely, that taking the time to write a snarky comment disparaging other people's efforts to raise money and awareness about a serious issue is somehow acceptable. That making assumptions about the efforts of others and responding with cynicism instead of participating and making a difference is a suitable course of action to take (it isn't, and it doesn't help anyone, either.)
It's easy to be cynical from the safety of your home, but it takes guts and courage to step up and say "I want to be a part of a solution."
As a small business owner, citizen of Winnipeg, and a resident of one of the poorest federal ridings in the country, I have a responsibility to make my voice heard. I have an obligation to share my stories and experiences, and to take the time to give back to my community and try to make my city a better place for everyone to live.
Sure, the CEO Sleepout isn't perfect, and there isn't a single perfect solution to ending homelessness in our city, but taking time from our days to ask for donations, raise money to help fund jobs and training, tour emergency and shelter facilities, and spend a night on the cold ground to get a glimpse of what it's like to spend a night on the streets is a worthwhile endeavour, and something that I feel everyone -not just people from Winnipeg, and certainly not just CEOs- should do at least once.
You can still donate to the CEO Sleepout, and I encourage you to give whatever you can. Even five dollars will make a difference in someone's life.
If you can't afford to donate, consider giving some of your time to places like Siloam Mission, who are always looking for volunteers (I've volunteered there and can attest that it's a truly rewarding experience.)
Even if you can't do either, thank you for reading this post, and thank you for sharing in this journey with me. I hope to see you out at Portage and Main next year.
---