Tagged: pat-martin
- by admin
and it was a vote well spent.
---
- by admin
for you non-Winnipeggers
Pat Martin
is the New Democrat MP for Winnipeg Centre (my riding! big ups!) and has been the MP here for nearly fourteen years. lots of people don't like him because, admittedly, he's known for being a bit of a loudmouth, as was demonstrated during this exchange on Twitter just now that has a lot of people getting upset: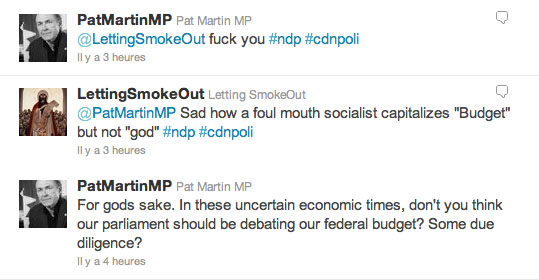 I'm sorry... no matter how unprofessional it may be, it's still the best response ever. I think it's great.
Now I understand that profanity is an iffy thing, even in social media, and that saying "fuck you" directly isn't the most 'professional' way to handle it, but when someone tries to go about trolling you by dragging religion into it, frankly I can totally understand why he said it. You can't feed the trolls, the best way to deal with them is to deal with them quickly and directly, which the response certainly was.
And let's be honest: despite being a loudmouth Pat Martin is undefeated in his riding since he was first voted in, so obviously people appreciate that there's someone out there with the balls to say what needs to be said, even if he may not always be diplomatic in saying it.
@shawncarthy
sums it up best:

You can follow tweets from my badass MP here:
@PatMartinMP
---