Tagged: lo-pub
- by admin
"It was a shithole, but it was our shithole"
is what owner Jack Jonasson had to say about it in this very sweet and moving little video from The Uniter about my favourite, now-defunct, watering hole The Lo Pub.
Lo was located in a HI Hostel a few blocks away from the UW campus and it's where I spent the majority of my spare time as a first-and-second year student.
I made a lot of memories in that tiny, often over-crowded, noisy little bar.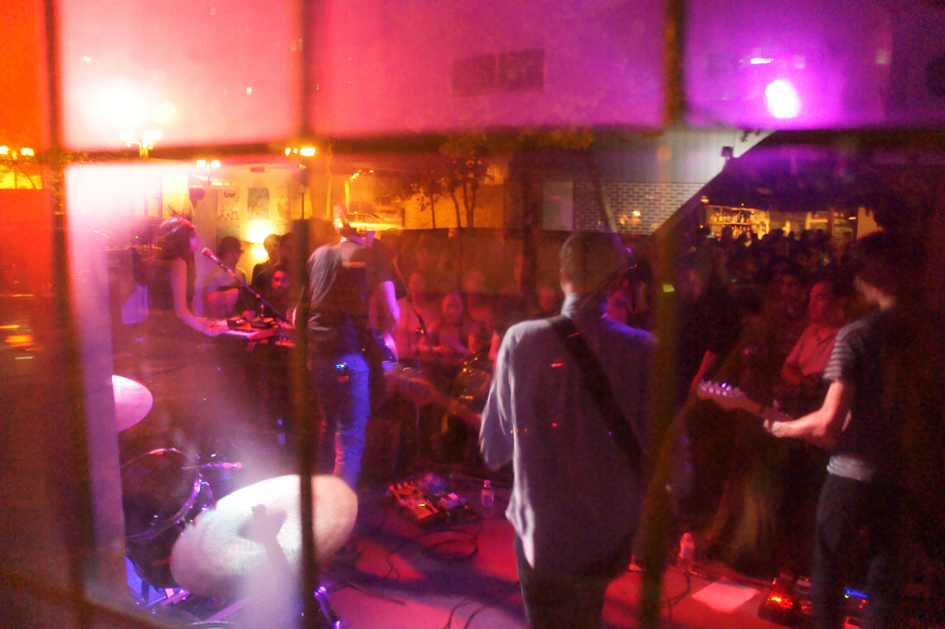 It's where I attended my first Secret Handshake.
It's where I met Colin and got to know him, Kevin and Adrian who I count as very dear friends to this day.
It's where I saw too many bands -both good and abysmal- to count at this point.
It's where my friend Skot Deeming threw his gr8bit and Data Dance shows.
It's where the Winnitron Indie Arcade Machine lived for a good long while.
It's where I met Abstract Artform for the first time, before he whisked us away into an evening of beers and way too good karaoke.
Most importantly, it's where I spent a lot of time hanging out with people that I loved, and a special place that will always hold so many memories.
Here's a post that I wrote when the Lo Pub closed; it's still hard for me to read.
Places like the Lo Pub live on in our memory and our collective consciousness. They remind us of times, thoughts, and feelings that we let slip away in our day-to-day lives.
Every time I go by the space where my the Lo Pub used to be, my heart swells with pride and also breaks a little bit, and I mourn for the days spent over beers and vegetarian poutine at my favourite shithole.
---
- by admin
guess that's the downfall of working on projects all day and then meeting up with some sweet tweeps in the evening.
@cdnbeer
was in town so we met up with him for a while and after having a few Half Pints Tyrone and I are back at home and I learned a few things today:
- I look like Lisa Loeb (I don't)
- shorts and tights are warm as long as you wear a wool sweater
- white nail polish doesn't look as trashy as I thought it would
- hugs from
@nicolerudge
are awesome (I got four!)
and now it's time to order pizza and drink imported beers and watch movies so happy Friday to you all.
---
- by admin
but getting better every day, and thank goodness because we've been so busy the past few days I don't even know where the time has gone!
This past weekend between a housewarming party and delicious Chinese food from Vi-Ann (it's in The Village, go if you have the chance!)
Ty
and I headed to Lo Pub to check out the very last Data Dance, hosted by our friend
mrghosty
. It was fantastic! Retro video game consoles lining the sides of the pub with lots of games to choose from
(I got my ass handed to me at Street Fighter, but came in 2nd on GameCube Mario Kart!)
and sweet chiptune music.
Dr. Whomp 8bit
Rickrolled
the bar! I don't know if everyone caught on to the meme, but Ty and I died laughing. So awesome!
Additionally we've been working on our costumes for the
Robot March
which is this Saturday! (May 28th)
I talked Ty into indulging in some seasonal Phil's Pils beer from our favourite local brewery
Half Pints Brewing Co.
(since we can't get our hands on the Queer Beer they've been making for Gay Pride -everywhere's sold out!)
No worries though, I consoled myself with some vanilla ice cream drizzled with this great dessert wine we got at the Wine Festival a few weeks ago -
Sweet Sunset - Red Chocolate
. It's got a really strong flavour and definitely needs to be served chilled, or over ice cream like we had it. Have you tried it?
Oh, and I almost forgot!
We are now the proud owners of some vintage 1970's his & hers roadster bikes! Okay, they aren't fixies like I would have preferred (I buy into that stereotype for the lulz) but they've got sweet 5-speed shifters, which I've never actually seen before! Obviously they need a little fixing up, but we scored both of them for 60$ (thanks kijiji!) and after putting air in the tires and some grease on the chains we were able to ride them home (which is good because the guy we bought them from lived basically on the outskirts of the South end of the city -whew!)
Essentially I'm having fantasies about cute dresses, wicker baskets and biking to the park (or anywhere!) on a sunny day. This video is basically like bike pr0n to me right now:
I hope this is you today!
(the smiling part, not the pancake part)
---